The events have been unbelievable on our deSIGN & INspire Nationwide Networking Tour this year. There are many different words to describe them – spectacular, beautiful, stunning, extravagant, elegant and luxurious to name but a few.  When we headed to Boston, we knew that we would be in for a great show, but we have to tell you, the evening went a notch beyond great.  It was EPIC!!
The bar was set high with an elegant and upscale venue – Lombardo's – Boston's Premier Conference and Wedding venue, and everything soared from that point on.  It was due in no small part to our co-host and New England partner, Larry Green and his team from Rentals Unlimited.  All we can say is, WOW!
We're going to recap this evening a tad differently.  We're not going to spend a lot of time describing every minute detail because the pictures are worth a thousand words and we know you are going to want to see as many of them as you can.  The entire evening was a kaleidoscope of spectacular design and inspiration featuring six designers who shared their inspirations and provided a spectacle of design extravaganza.
We opened the doors and…
Moving into the venue, Bliss Celebrations created a beautiful setting with a Vermont table and Elio chairs and lovely table setting in lobby.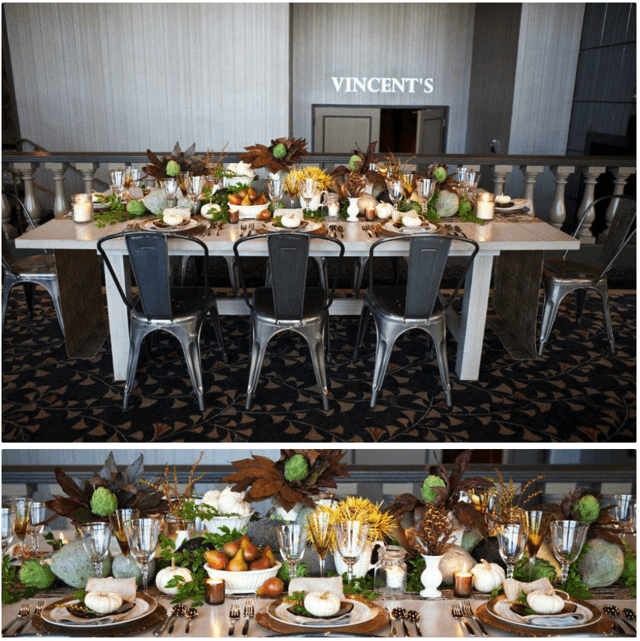 After "signing in" to the event at registration, guests were escorted up a beautiful staircase with a beautiful chandelier where the Crystal Collection along with the Essential Turning Bed held court in the center of the Rotunda.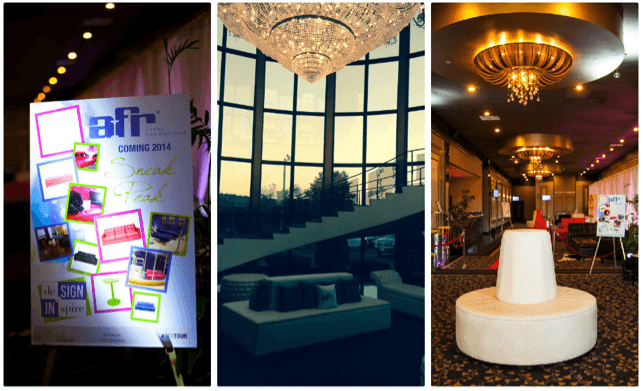 A sneak peek of our 2014 Preview Gallery featured our Parma, Chandler, Provence, Regale and Phoebe Collections on either side of a red carpet running down the center of the upper balcony.
John Orton Flowers and Events created a stunning "Glamorama" vignette.  The setting included the Grass Collection and Tangerine and Imperial lines, intermixed with Broadway end tables.   A beautiful tablescape featured an Asbury table with stunning floral and topiaries.  The setting popped with green and blue drape, grass throw rugs, and a mannequin sitting on a bench.  It was artistic and cool!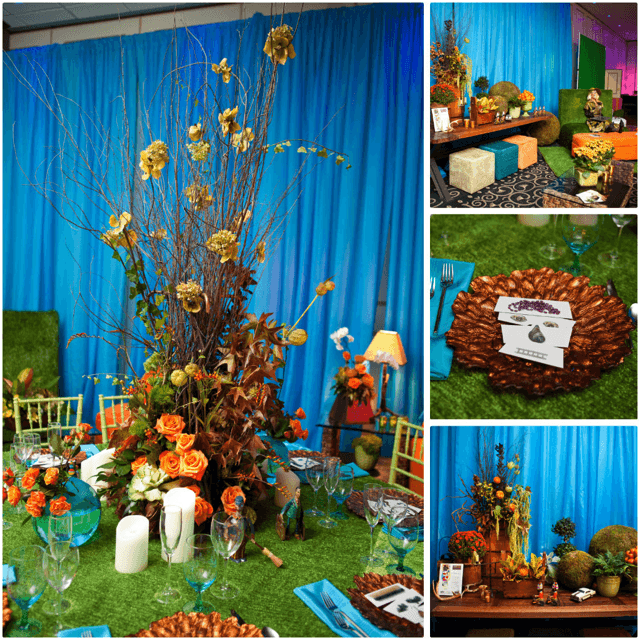 Directly beside Glamorama, a green screen photo op provided by Memories In An Instant was set with the signature deSIGN & INspire branding and dressed out with picture frames and a selection of Regency cubes and props.
A beautiful "India" inspired setting designed by David Price from Rentals Unlimited included our Imperial Collection, square table and Hex accent tables.  It was colorful and elegant.

Future Affairs Productions created a "Welcome to Holiday Bling!" gallery with the Crystal Collection including High back Love Seats and Chaise backed by a crystal silver beaded curtain and sparkling accents.  Lit Zanzibar tables teamed with cubes were lit in icy blues and topped with mirrors and beautiful candles.  A stage with white backdrop and snowdrifts featured white boulders and reindeer. If you're looking for the ultimate Winter Wonderland, this design created it to icy perfection.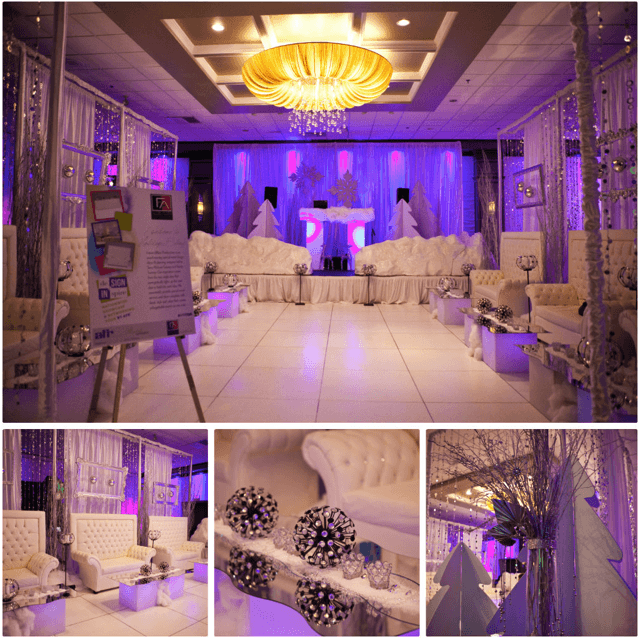 Some will tell you there was nothing like the 80's, and this ode to the era of MTV, hairbands and the Rubik's cube made us feel nostalgic from beginning to end.  Using our Continental Curved and Reverse Curved Love Seats along with a Whisper Ottoman anchored by Jumangi ottomans accented with funky pillows, David Price of Rentals Unlimited made the space come to life.  Illuminated Club high boys with Equino bar stools completed the styling. It looked mahhhvellous!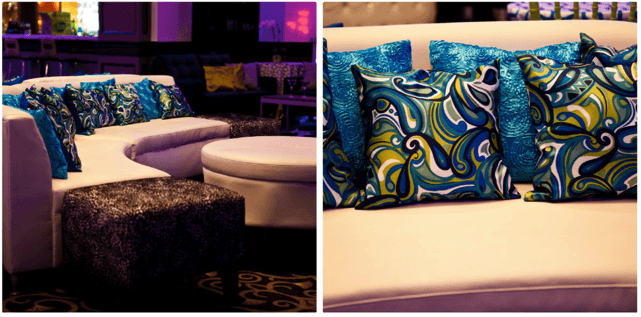 The "Rentals Unlimited Café" was out of this world.  Guest seating was designed with Café Tables covered with bright striped linens surrounded with Elio Chairs and Memphis Pub Tables with Marcus bar stools.   Our Umber bars helped finish the cool and eclectic setting.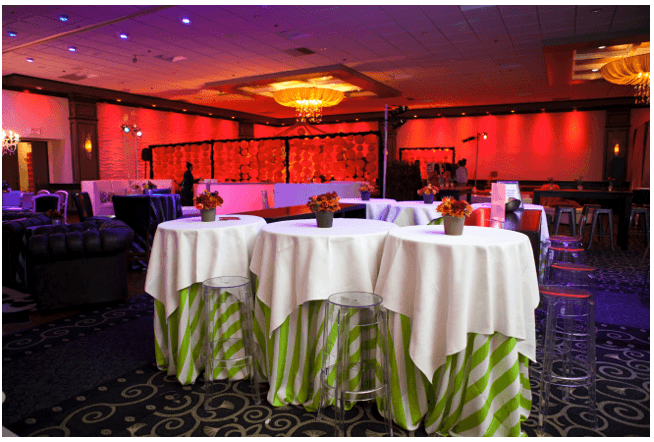 The Glitz area featured our Function Collection, square whisper ottomans and café tables with Pucci linens.
Everyone loves Madmen, and David Price again outdid himself in theming and design with the Black Metro Line, Ibizia chairs, VIP bar, Shanti bar backs, a fireplace mantle with a flat screen and silhouette custom projections on the wall. He finished the area with gold taffeta and geometric patterned pillows and table linens.
"Fifty Shades of Grey," another setting by the uber talented David Price, was as hot as the best seller.  Using the Grammery Collection, Black Crystal Ottomans with Espresso Shanti bar backs used as bookshelves, the setting was sultry and sexy.
Bliss Celebrations designed "Luxe Lodge."  This setting took contemporary styling over the top.  Just look at how they integrated the Chateau, Elan and Marteen chairs, the Essential Turning Bed and a Vermont table, Zinc High tops and White Espresso Criss Cross stools.  The gallery also featured a beautiful crystal chandelier.  Cleverly integrating cowhide, this gallery was just decadent!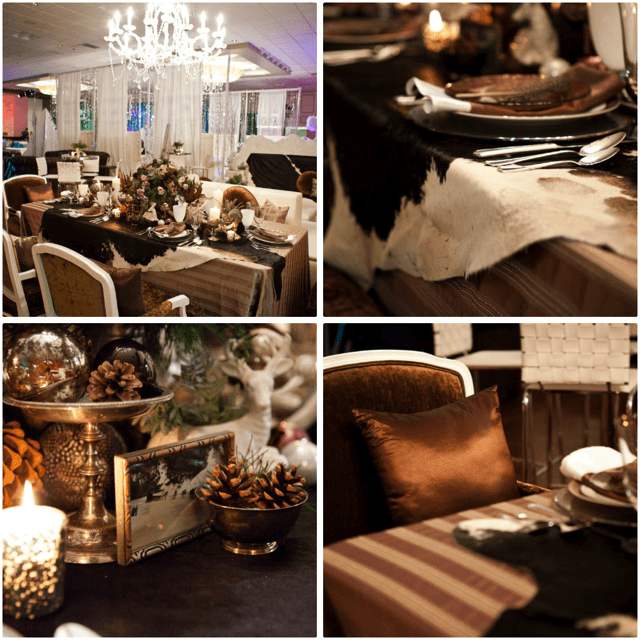 Destination Partners, Inc. (DPI) brought Asia to Boston with their "Influences of Asia" themed design.  It was extravagantly staged with a Pagoda, umbrellas, and a colored paper lantern wall mobile.  The cultural setting featured the Evoke Collection, Regency cubes, and Hayden tables innovatively used to create a beautiful buffet station. The attention to detail and creativity made guests feel if they had stepped into another world.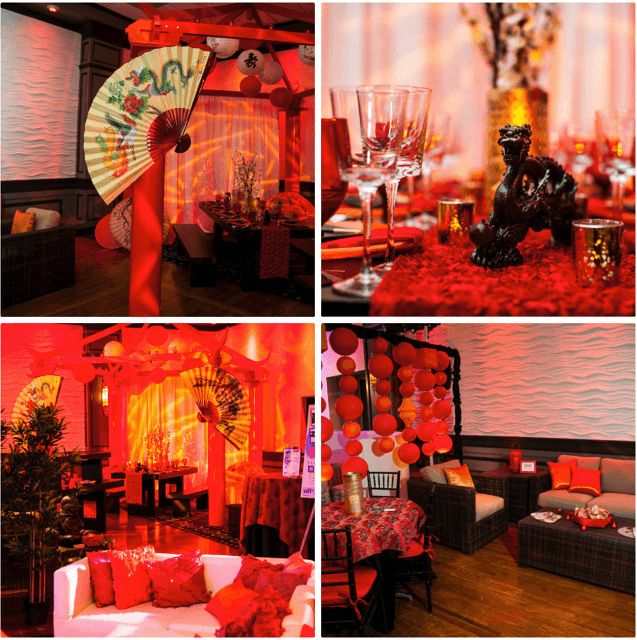 Exquisite Events designed a "Vintage Flair with Simple Rustic Elegance" vignette. The area was draped off with sheer draping.  On the wall, picture frames created a beautiful perimeter and created the perfect space for our Chateau Collection, Mon tables, Asbury Table and more.  It was the perfect pairing of classic design and rustic warmth.

Lombardo's outdid themselves with top shelf food and beverage, specialty champagne cocktails and helped us create an evening that was perfect for guests to find inspiration, gather ideas for their own events and meet new suppliers.
Entertainment was understated and perfect with music throughout the evening by DJ John Zucco, a sleight of hand magician and tarot card reader.
Congratulations to Maureen Poole of Astounding Surroundings Staging from South Shore Boston, who won the drawing for The Special Event Conference package provided by our National Sponsor Partner, The Special Event!  Pack your bags for Nashville, Maureen!  We'll see you in January!
As you can tell by the pictures, (we told you they were worth a million words), this evening was over the top, detailed and exquisitely epic.  Each area perfectly demonstrated innovative ideas, showcased the amazing talent within Boston and brought a community together for an evening that was simply out of this world!
Our tour could never be as successful as it is without the support of our local and national sponsors as well as our New England partner, Rentals Unlimited.  Larry Green and David Price led the design team and were integral in making this tour stop soar.  A heart felt thanks for your longstanding partnership!
Last but not least, thanks to our photographers Erin McGinn, and Curtiss Photography for the stunning images and Mike Hendriques from Artistic Wedding Films for video.  The lighting was dramatic and beautiful thanks to Amy from Gateway Productions!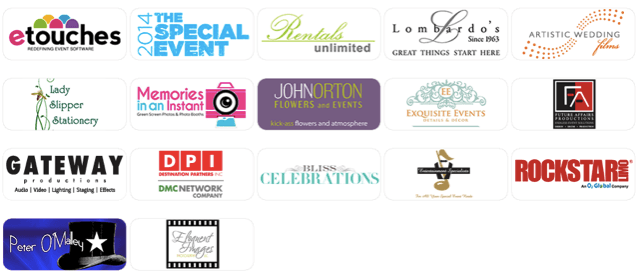 With only five more stops left on the tour, you might want to click here to see the remaining event dates and RSVP for a networker in your area.  Join in the conversation by signing in and using #afrTOUR.  We will see you soon in San Diego!

We are thrilled to partner with etouches as a National Sponsor for the 2012 AFR National Networking Tour this year! If you don't know of them, you should, so let us tell you just a little bit about who they are and what they do.
etouches is making our lives easier as we pack up to head out on the National Tour by providing AFR with the etouches platform to organize each of the networking stops. We think it's a great way for you to see them in action.
So exactly what is etouches in plain language? In short, it's a software platform that includes everything you need to help you make your event successful. While you won't get to see all the back office bells and whistles on your end, what you will experience is how effortless the registration process will be for you, and that's because of etouches. On our end it helps us accurately track attendance and make sure that we are on top of every detail for each event. With eleven events to manage at one time, we're sure you understand the importance of keeping on top of each and every one. Are you curious to learn more about them?
You can drop by www.etouches.com where you will find in depth information on all their products, view product demos, and even sign up for free 14-day trials for hands on exploration. Have more questions? No problem, you can talk to an etouches representative in person while you're at our AFR Networking Tour Events.
We are excited, appreciative and really looking forward to working with etouches on the AFR National Networking Tour this year. We're confident that you're going to love them too!
So what are you waiting for? Take a moment and RSVP now, and save the date for the AFR Networking Tour in the city nearest you. We look forward to seeing you there!
To RSVP now, go here: www.2012afrnationaltour.rentfurniture.com
BE PART OF THE CONVERSATION:
Get involved in one of the events industry's most talked about events by following us on Twitter @AFR_Rentals and joining the conversation with hash tag #afrnationaltour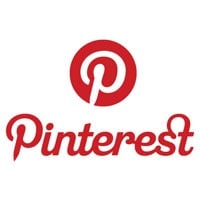 Haven't heard of Pinterest? You will. The social media site is growing fast, with many observers calling it the next Twitter.
There's a big difference, though; where Twitter's focus is on text, Pinterest is visual. The site allows users to 'pin' photos or video to customized bulletin boards. You can have as many boards as you like, and the topics are limited only by your imagination. A cat lover might collect dozens of cute feline photos, which friends can discuss and 'pin' to their own boards. Or if you're interested in hot event furniture and event design, check out our image gallery and use the 'Pin It' button to pin our photos to your account.
Do you have a great collection of photos? Let us know! Find us on Pinterest at http://pinterest.com/afrrentals/
By Ron Lanzo, Commercial Account Executive, NY Metro
For those of you who've read my most recent article regarding renting, you know I'm always looking for something new that can be rented. While in Italy this past Fall, I noticed you can rent motor scooters, like the really cool VESPA we came to love in the movie Roman Holiday. Of course, I'd be remiss if I didn't suggest you double up on your life insurance policy before venturing out on the streets of Rome, Naples or the Amalfi Coast on these two wheeled marvels.
Did you know you can also rent a SEGWAY? Yes, even on the streets of New York, these truly unique and speedy forms of travel that requires very little energy except for maintaining balance on the two wheels while propelling forward through the crowds. If you can't handle the two wheeled version, then rent one of the newer three wheeled models that give you tricycle security and stability.
But my favorite since I'm considering upgrading to a new digital camera and I simply cannot decide if I want another point and shoot, a mid range version or a full sized SLR (single lens reflex) I'm also considering a professional camera. Did you know that many camera stores right in Manhattan rent cameras by the day? It might cost me a bit more to try out a few cameras, but I can be certain I've made the right choice Calumetesp in Manhattan, a local camera outlet recently ran an ad in The New York Post that read; "Want to try it? RENT it!!!" I for one concur it's a great way to try before you buy. When I am finally ready to purchase I will find comfort in knowing I am truly satisfied with the product before I consummate the sale.
There are many items available for rent, so many new products and services pop up on the rental market each week. I recently saw in the Wall Street Journal, you can even rent an Apple i pad.
I'm in the business of renting commercial office furniture here at AFR FURNITURE RENTAL Inc., and we specialize in a variety of rental programs from one day to more than a year. We typically customize the rental based upon the customers' requirements. This past quarter in my market place, New York Metro, we did a wide variety of projects including the Beyonce baby suite at Lenox Hill Hospital. Suffice to say that both mother and Ivy Blue Carter were quite comfortable and so to were visitors and extended family in their spacious suite. This was an amazing effort showcasing our creativeness that spoke volumes to our new tagline: The Definition of Style.
We also did several projects at the new RESORTS WORLD CASINO at AQUEDUCT RACEWAY in Jamaica, NY. Our products were used throughout the facility including the Chinese restaurant, the oval bar, and the High Limit Lounge. Once again, the client's furniture order was late from the manufacturer, and we helped them complete their project on time to hold their Grand Opening party by utilizing our rental specialties.
We hear a lot of mumblings within the office furniture industry about the demise or death of the cubicle. For years Scott Adams through his DILBERT cartoon series has often mocked the office cubicle, and most of the industry pundits have prematurely said panel systems are passé. Well we continue to delivery, install and rent cubicles for as little as two months to two years, and at the end of the day, the cubicle still provides more privacy than open plan desk systems. In fact we just completed another cubicle project in North Brunswick, NJ, for MERIAL Corporation and their new swing space. It was all done in record time of less than one week.
These are banner times for the rental business. Think about it. Renting might be the right answer to solving your problem – simply contact the experts now.
Ron Lanzo is the Commercial Account Executive at AFR FURNITURE RENTAL, Inc., covering the New York Metro area.
We're already in March? This year is moving at high-speed. We've just returned from the 2012 CaterSource and Event Solutions Idea Factory, and wow, did we have an awesome time in Las Vegas!
THE AWARDS!!!
First, just in case you haven't already heard, with your support, we RockED the Vote at the 2012 Spotlight Awards bringing home awards in the categories of Event Supplier of the Year and Marketing Professional of the Year! We're so excited about the awards, and even more importantly the opportunity the campaign gave us to communicate with our clients and the event community at large in a fun and meaningful way. Of course, we really love how our new Spotlight Awards look on the AFR Awards shelf too! (Jerry, our President hasn't stopped smiling yet!)
THE REST OF THE WEEK:
In addition to winning awards and making a fashion statement with my crutch and go-kart, we had so much going on at the show this year that we were busy every minute of every day. Without out all hands on deck, we couldn't have gotten it all done!!!
THE AFR BOOTH:
This year, we worked with Frank Clemente and Lynn McGee at ConceptBAIT to build a Moroccan Pavilion that would show-off our new Extravaganza Slipcovers to the event community. The covers were created to fit the Function Line and effectively transform event spaces in a savvy world culture way. To show off the furniture, Frank designed a beautiful fabric Pavilion with stained glass lanterns hung from the ceiling in a variety of heights that put the finishing touches to the environment. In addition to the new Extravaganza line, we showcased prototype metal tables that will be available within the next two months. Please tell us, what you thought of them.
THE DESIGN DIVA CHALLENGE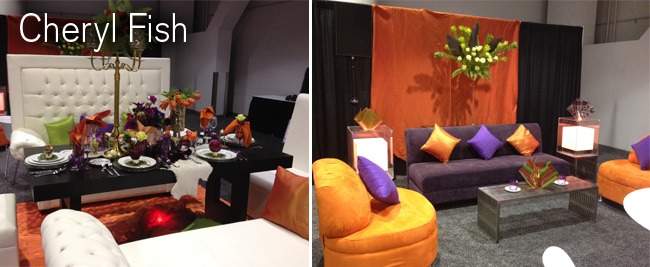 Last year, as a sponsor of the design stage we were given 20 minutes to talk on stage. Rather than boring people to death we did a mini design contest with David Merrell and Frank Clemente. It was such a big hit, that this year, we were invited back to produce the official "AFR Design Center." The headline event for the stage, was the DESIGN DIVAS CHALLENGE featuring industry design experts, Cheryl Fish of Someone's In The Kitchen, and Sasha Souza of Sasha Souza Events. Talk about generating some excitement! The competition was high drama, funny and fierce.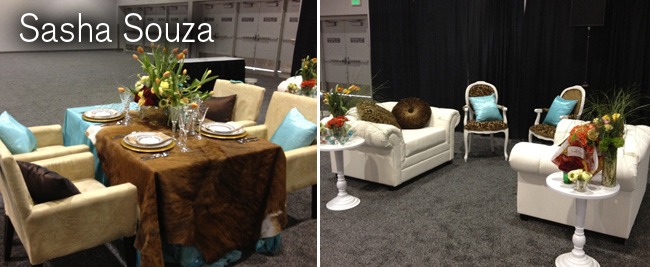 AFR brought a truck of furniture and partnered with Mayesh for floral, Deko Vase for vases, 81 Main for décor, 10 Strawberry Street for china and Rentals Unlimited for linens. Sasha and Cheryl had 45 minutes to design using these items that they had not ever seen before. Our MC, JC York from Wise Guys Entertainment kept the audience engaged beginning with making our Divas arm wrestle for their choice of design space and adding surprise elements like pony and cow hide rugs that needed to be incorporated into their designs 15 minutes into the competition. In addition, our MC placed the Divas in a surprise 2 minute penalty box to see how well they had given their team direction. Unexpected interruptions happen all the time in events, right? After the challenge finished, tradeshow attendees voted by ballot for their favorite design vignette. Congratulations to the 2012 Design Diva, Cheryl Fish who was "crowned" in David Tutera's Closing Session on Wednesday evening.
Watch out for our Battle of the Sexes Challenge next year at the 2013 Event Solutions Design Challenge. It's going to be AHHHHmazing!
CATERSOURCE MAGAZINE LOUNGE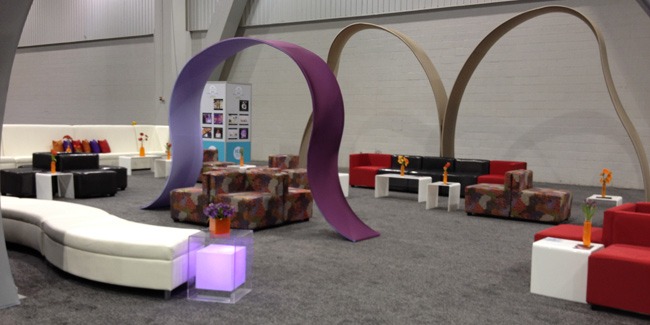 With just two days notice we agreed to sponsor the CaterSource Magazine Lounge. We recruited Deb Roth from Pink powered by Moss to offer us Ribbons and Phyliss from Eventricity in Glenside, PA to do the florals.  We showcased our Function line with the Extravaganza slip covers and previewed two other slip covers- Titan and Saffron which are currently only available in Florida, but may be available in additional markets very soon.
Are you out of breath yet? We are, but rest assured we are celebrating such a successful show. And, just in case you missed it, THANK YOU FOR ALL YOUR SUPPORT of AFR Event Furnishings!!!
Pennsauken, New Jersey, March 3, 2012 – The AFR Event Furnishing team brought home the gold in the Event Supplier of the Year and Marketing Professional of the Year, categories at the 2012 Event Solutions Spotlight Awards held on February 28th at Caesar's Palace in Las Vegas.
"Being honored and recognized by our peers and industry leaders really made it one of the best weeks ever for AFR! It's an amazing feeling to know that people really think well of us and so graciously supported our Rock the Vote campaign. Without our extended family of client partners, colleagues and friends, we couldn't and wouldn't be so successful. These awards are something we share with all of them," says Tricia Schmitt, Director of Marketing for AFR.
The Event Solutions Spotlight Awards are an annual national awards presentation dedicated to recognizing the best and the 
brightest event professionals in the industry. The awards 
are presented in a variety of categories and honor both 
individuals and companies for their body of work in the 
previous year.
AFR Event Furnishings is the nation's premiere provider of stylish, quality furnishings and accessory rentals for conferences, meetings, tradeshows and events.
For more information this topic, or to schedule an interview, please call Tricia Schmitt. For more information on AFR Event Furnishings, please visit www.afrevents.com.
Pennsauken, New Jersey, January 5, 2012 — Along with welcoming in 2012, things are moving and shaking at AFR Event Furnishings with the announcement of industry veterans, Greg Zalkin as Director of Special Events and Mark Greason as Director of the Tradeshow Division.
"With the expansion and growth that AFR is experiencing as a company and industry leader it has become necessary to put a team in place to effectively manage a smooth process for our various departments within the company. In addition, both Greg and Mark have a great wealth of knowledge and experience that will help redefine the rental and tradeshow experience for our customers", says Tricia Schmitt, Director of Marketing for AFR Event Furnishings.
AFR Event Furnishings is taking significant strides to pay close attention to how clients define a preferred supplier partner. With a deep commitment to serving its customers needs in the best way possible, AFR is focused on continually evolving an exciting marketplace with innovative products and superlative customer service. These new position appointments underscore that approach to doing business while meeting long term goals for the company.
"Our decision to shift management assets and increase our focus on securing long-term partnerships with General Contractors, Exhibit Houses and Corporate Clients falls in line with our long term strategy for the Short Term rental business at AFR. Our service capabilities, locations, product mix, competitive pricing, our team, and continued support from our clients convince us that we are in a prime position for growth in this area" says, Mark Greason, head of AFR's Tradeshow Division.
"In 2012 and beyond, AFR will transform the event furnishings rental industry with state of the art new product lines, custom designed for AFR along with customer service that extends far past just delivering high-end products. This is an exciting time to be in the special event industry, and I'm lucky to be working side by side with some of the most talented event professionals in the business", adds Greg Zalkin, new Director of Special Events at AFR.
AFR Event Furnishings is the nation's premiere provider of stylish, quality furnishings and accessory rentals for conferences, meetings, tradeshows and events.
For more information this topic, or to schedule an interview with Greg Zalkin or Mark Greason, please contact Tricia Schmitt at 856-406-1200 or tschmitt@rentfurniture.com. For more information on AFR Event Furnishings, please visit www.afrevents.com.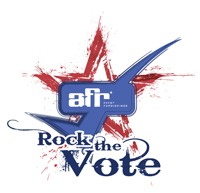 Voting Polls are open for the Event Solutions 2012 Spotlight Awards.  This is the first year that this award is based on a combination of merit and popular vote. Our merit won us a coveted finalist slot, now is the voting portion!
This is where we need YOUR help, to vote! Please feel free to check out our work and submission online.
Voting is simple! Click on the 2012 Spotlight Awards link, enter your email, choose "event supplier of the year" category and then vote for AFR Event Furnishings. Choose "Marketing Professional of the Year" and then vote for Tricia Schmitt and then choose Rising Star Female and vote for Lindsay Cosimi Masterson!
Click here to Vote >>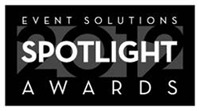 If you were given the opportunity to change someone's life forever, would you? If you had the power to restore hope, would you? If you could transform tragedy into triumph, would you? Last year, AFR Event Furnishings had an opportunity to do just that in partnership with Event Pros Take Action and the St. Bernard Project in New Orleans. It feels better than just about anything we've experienced in the world. If you haven't heard the buzz, then here are a few things you should know.
Last year, AFR Event Furnishings donated two households of furniture, and in July, went down to New Orleans with a team of event pros and helped deliver 15,000 products to households desperately in need of basic items like china, glass, silver, linen and more.
Working with Design Angels from the event industry, we were part of a team that helped design, rebuild and then completely furnish homes for two very special families, including bed sets, carpet, sofas, chairs, end tables, flat screen televisions and so much more.
The "easy" part was the work in the hot and humid environment in pouring rain. The best part was celebrating "Welcome Home" parties with the help of two celebrity chefs, confetti canons, champagne and grilled oysters. We watched as the two families with tears of joy running down their face, cut the ribbon and toured their homes with the Design Angels. We cried with them.
In 2012, AFR Event Furnishings is donating $20,000 which will entirely refurbish and repair one house and in addition will provide furnishings to make it into a home. We'll be down in NOLA, July 17th – 20th working along side a team of industry event pros to make sure every detail is perfect. You will work hard, sweat, cry and celebrate with joy when it's all done and one more family gets to go home. Sound fulfilling? It is.
Contemplating the huge undertaking of what we are trying accomplish also brings the thought to mind that we are not only changing one family's life, we are impacting generations to come. There is a ripple effect that with nourishment will grow into an astounding movement of communities supporting one another in terrible tragedy. Most every one will experience a time in our lives that we need a hand up. Why not provide it for others who need it now?
"We're throwing down the gauntlet and asking you to join us in this worthy endeavor. There are over 60,000 families still living in FEMA trailers, overcrowded circumstances or even homeless in New Orleans. Life to these fellow Americans has been a path of terrible struggle and hardship (without basic necessities we often take for granted) since Hurricane Katrina left a devastating swath of destruction in its wake. We think it's a pretty great feeling to be able to help in such a meaningful way," says Tricia Schmitt, Director of Marketing for AFR Event Furnishings.
She goes on to say, "It is in this spirit of giving that AFR Event Furnishings has decided to include all of you in the joy of changing a life this holiday season. So when you look in your stocking and you don't find a little something from the AFR Santa this holiday season, it's because it can't be boxed and mailed. Hope, charity and second chances just don't work that way. But rest assured that every NOLA family that steps back into a life of normalcy, eats off a real plate, and looks to the future with hope, means that together we are changing the world, one corner at a time, and you, are a part of it."
For more information on how you can join in and get involved, please contact tschmitt@rentfurniture.com If you are unable to donate funds, you are certainly welcome to volunteer some muscle and enthusiasm next July in NOLA. We promise you, it WILL transform a life – maybe even yours.
AFR Event Furnishings provides its customers with distinctive furniture collections, quality products and a promise of service satisfaction. We are the premiere provide of stylish, quality furnishings and accessory rentals for your next conference, meeting, tradeshow or event. With multiple locations throughout the country, AFR is ready to serve its clients no matter the place or time.
For media inquiries/hi-res images, please contact Tricia Schmitt, at 856.406.1206 or email tschmitt@rentfurniture.com. For more information on AFR Event Furnishings, please visit www.afrevents.com.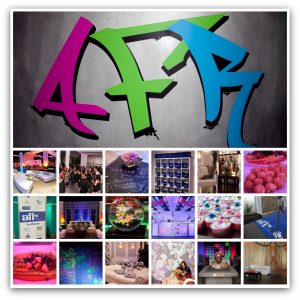 What is sponsorship? To some it's just an easy way to get money to fund whatever endeavor they are producing with not much thought to an actual return for their investor. To others it's great advertising. To someone else it's a symbol of charity. But to us, at AFR, it's a partnership. One that involves working together to provide a benefit for everyone involved in a very strategic way.
This was the thought that we had in mind when we developed the strategy for the 2011 AFR Networker Tour that we completed in late November. How did we engage sponsors and vendors in a way that would benefit them most? First we made them a partner. While we retained the headliner position, every partner/sponsor we brought into the fold played a strategic role in the overall scope and success of each event. Let's talk about some of the benefits that everyone enjoyed.
1. Industry Connection: Connecting with other industry people created a fun atmosphere for sponsors to communicate one on one with others that could use their service or product.
2. Product Showcase: Each of our sponsors could engage in the events in a manner that was comfortable for them and would showcase their involvement whether it be in lighting, catering, floral, linens, entertainment, drink service or rentals or showing off their spectacular venue.
3. Community Relationships: The Networker events gave everyone a chance to be a part of a community where everyone took away something beneficial to their business. Whether it was meeting new clients or reacquainting with old ones, or even finding ways to partner with others – relationship building was a key aspect of the events.
4. Opportunity: There was plenty of opportunity for future business. In fact many of our sponsors have shared with us that they've already booked future projects as a result of the event.
5. Return on Experience: What better way to educate people on the services or products that you offer than to let them touch, feel, taste and experience it in a fun, low-cost way. It builds confidence in the product and your customer. It's so much easier to sell a product to a confident client base, isn't it?
6. Candid Feedback: When people are talking face to face, they are less reserved and willing to share more. They give us the feedback that we need to continue growing as a company. Whether it's kudos for a job well done or constructive criticism, conversation moves business forward. We enjoyed and partook in many such conversations. We take our client's perspective seriously – and do something with them – and our business inevitably grows.
7. Creativity Box: There are no original ideas in creativity. Sharing inspires brainstorming. You never know when an experience will trigger an idea for an event you are producing. That being said, there were plenty of inspired ideas to draw from at all of the events.
Along with the more traditional valuations of sponsorship like building brand loyalty, awareness and to change/reinforce brand imagery, quantify sales or secure purchase intention, and the emotive value that the client/consumer develops toward an event, the AFR Networking Tour came together as a tour de force situation for everyone involved.
Back at our office after the tour, the buzz isn't just about the exposure for AFR, it's about the shared benefit that everyone is enjoying. Yes, we're thrilled with the brand exposure that we've gotten. We are thrilled with the numbers of attendees, the orders that are pouring in and last but certainly not least the new relationships we are forging. Our partner rolodex has expanded, and not only did we create brand awareness and loyalty for ourselves, others built awareness and loyalty for their business too! Sponsorship to us, equals contributing and sharing, building a community, working in partnership and creating an environment where everyone thrives from working together. It's our mantra, not only internally, but also in how we do business. We're not just a supplier – we are your industry partner willing to go above and beyond to ensure that everyone's experience is stellar.
We're immensely grateful to have had the opportunity to bring the concept to life and watch it become so successful for everyone that joined the tour. We can't wait to create an even better opportunity next year that will have even more added benefits for both AFR and our industry partners. In our minds, the opportunities are endless and the sky is the limit. What are we going to do next? We're going to reach out and grab opportunity and introduce it to preparation…with a little success, we'll end up with a whole bunch of luck for you and for us! See? There's a whole lot of room at the top. We hope you'll join us!
We'd love to hear your ideas for next year…how do you think it can be even bigger and better? Do you want to be involved? Please email tschmitt@rentfurniture.com with requests, ideas or for more information.