Over 200 event professionals attended this year's tour stop at the Mead Center for American Theater in the nation's capital on Monday, October 1. The day started early with hard work from the AFR crew and our vendors to transform this beautiful venue into Fifty Shades of AFR.
As guests entered, they walked into the office where the CEO ofGreyEnterprise Holdings Inc. put in a lot of hours! Our vivid table served as his desk and the sleek black leather of our Metro and Grammercy groupings, complimented by the white leather of our Function collection, added class. Yours Truly Lighting and Décor did a wonderful job at highlighting each room!

From the office, you entered the Penthouse living room of Christian Grey at the Escala in Seattle. Beautiful drapery provided by Quest Drape provided the perfect backdrop to Function, Grammercy and Sophistication groupings for the modern look Grey fancied. The mood was really set with floral centerpieces and accents from Blue Vanda Designs, who did an amazing job with all of the flowers.

Christian enjoyed classical music while in his secret room, so what better than the serene sound of a cellist from Bialek's Music to invite you into the Red Room? This room featured AFR's newest collections. The Winston sofa and chair was showcased on stage in the center of the room. Our new Vermont table was complimented with Dijon chairs. Two peek-a-boo lounges surrounded the Chateau grouping, along with a Tuscany grouping. While in the Red Room, guests enjoyed a fabulous beaten to a pulp smoothie bar provided by our friends at Traveling Bean from our brand new Umber Bar!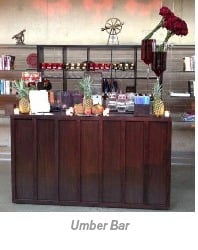 Guest's hung out on the Broadway line outside, while lighting up hand rolled cigars provided by Cigar Row.

Because Ana and Christian liked to unwind with their favorite champagne, we transformed upstairs into a crystal champagne lounge using, of course, our fabulous white leather. Continental, Crystal Button, and Plaza were used to create a whimsical feel. And Booth-o-Rama was there with fun photo booths and guests enjoyed music from Chris Laich. Market Salamander did the catering all served with Select Event Rentals stunning and area specific product.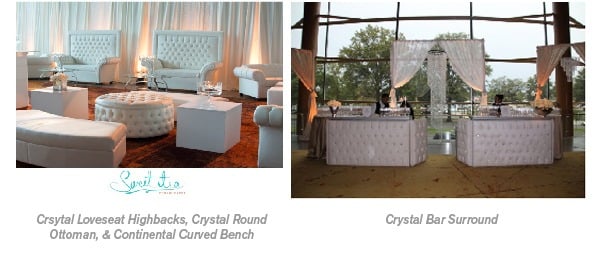 Spoiler alert…the coup de grace was the Happily Ever After section which was a serine picnic setting using our latest grass collection with floral!

And a very special thank you to our generous sponsors Etouches, The Mead Center for American Theater, Hosts, Blue Vanda Designs, Booth-o-Rama, Quest Drape, Select Event Rentals, Sweet Tea Photography, Atlantic Valet, Chris Laich Music Services, In Depth Photo & Video, Bialek's Music, Market Salamander, Yours Truly Lighting and Décor, FutureShow, Cigar Row, and Traveling Bean.
Laters, Baby!
The Dallas Networker was held on 9/19 at marc events located in downtown Dallas' Design District.
Guests arrived to the patio furnished with the Evoke and Grass Collections. The "Skinny Colada" was the signature drink, provided by Svedka Vodka, served from our new "Umber Bar"!

The theme was "Shatter Your World with Color" and the room was filled with the many colors of AFR- no white leather! Purple, Tangerine, Charcoal, Brown, Lime Green, Orange, Pink, Red and more!
Last week's event featured three Table Top Designs. Hayden with Tangerine benches was designed by Feature Presentations LTD. Absolutely Blooming used Vivid with Marteen chairs to create their look. And lastly, The Functions Event Group took our club table and hung it from the truss for a unique style!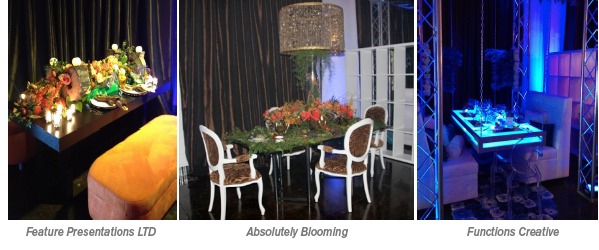 Our personal favorite vignette of the night was the new Winston collection, used to make a Man Cave! Don Ross Nabb Productions served street tacos and Shag Carpet & Speedpro provided our themed décor.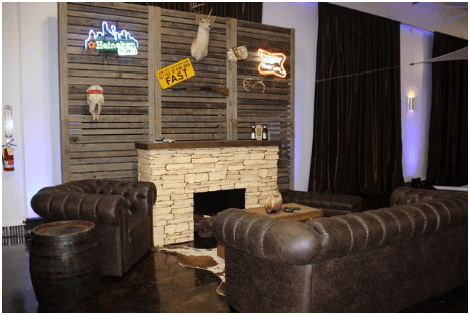 The Tag It area was super cool! Tag the sofa, write on the chalk table and create your own graffiti salad.  Guests were able to "tag" a love seat. The guest who tweeted the most during the event won the tagged love seat at the end of the night. Congratulations to our winner – J. Damany Daniel!!!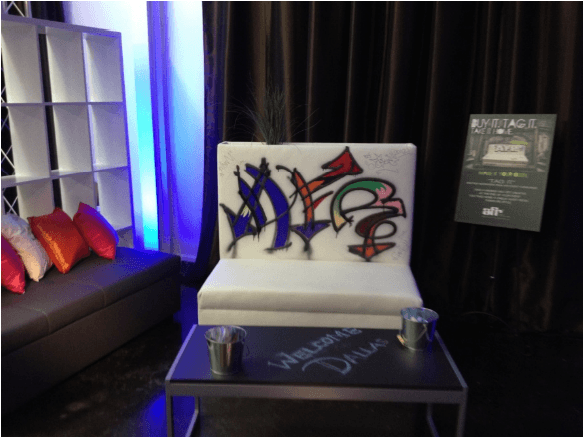 A special thank you to all of our sponsors of the evening! Etouches, Marc Events, Thisbe Grace Photography, GladTower Live Productions, Eclipse Entertainment LLC., Absolutely Blooming, Beyond, Don Ross Nabb Production Company, Freshmeet Media, Speedpro Imaging, Feature Presentations LTD., Shag Carpet Prop Rentals, Le' Popcorn, Astounding Sounds, Quest Drape, The Functions Event Group, Gemini, Dallas Brides, Dallas Modern Luxury, Encore Entertainment, Celebration Event Rental, Photomadic, and Triple Play Staffing.
Furniture isn't just about a place to sit anymore. It's morphed into a major design element for meetings and events. Today, furniture falls into line with styles, textures and colors that play right into the design palette.
So what's vogue for Fall 2012? Rich textures and patterns. It doesn't matter what patterned item you choose, as long as it makes a statement! This season is not about one key color, but rather contrast and combinations.
The fall color palette is rich with purple, tangerine, ultramarine green and espresso; contrast with vivid hues of harvest gold, teal and turquoise. It's time to go bold!
Five Trending Event Styles for Fall: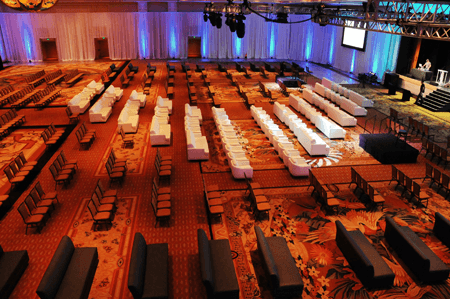 General Session soft seating is out in front this season. Want to get your message across? Make sure your audience is comfortable. Take a look at our Empire line.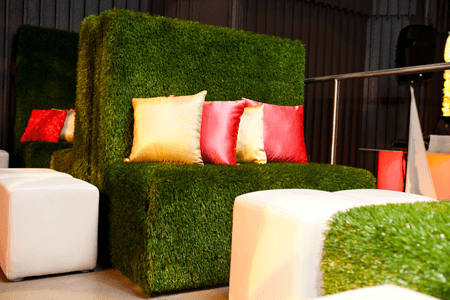 NEW! Just because fall is here doesn't mean you can't bring the grass indoors. Faux grass furnishings are a big hit this year and not showing signs of slowing down.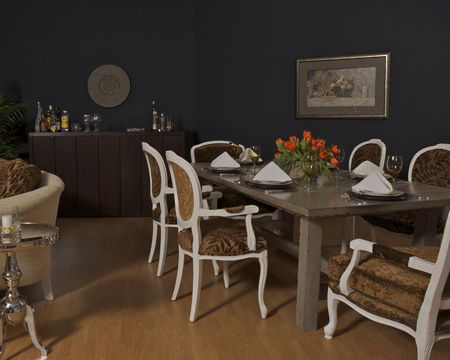 NEW! Rustic earthy looking woods are so chic! It leaves the designer and their customer with a sense of practicality while remaining very stylish. Add in pieces with curved legs and the buzz heats up. Check out our Vermont tables.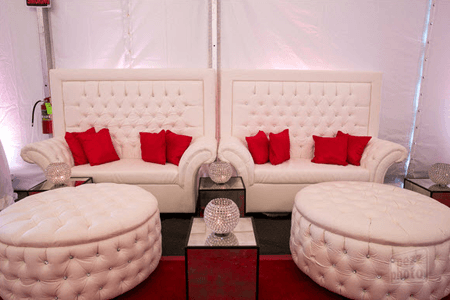 Tufted pieces are in. Think black and white and add in some vivid color splashes for a beautiful look. Try our Crystal Collection.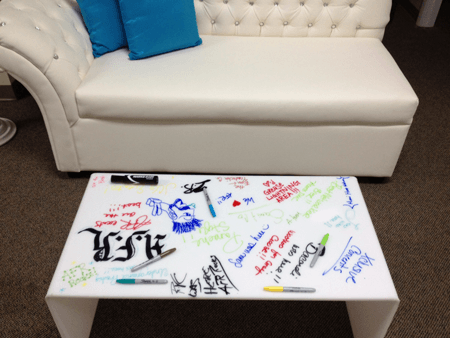 NEW! Go urban! Tag it furnishing options have arrived! Select your piece of furniture and tag it your way at your event. Then take it with you.
If these tips don't inspire an idea, we have more. You can find them at www.afrevents.com or consult with one of our design specialists at 888-AFR-RENT. We're ready to help you create just the right look for your next event.
Pennsauken, NJ (September 4, 2012) – AFR Furniture Rental is pleased to announce the acquisition of Aaron's Office Furniture business, including all active lease agreements. AFR Furniture Rental's national presence becomes stronger with the Aaron's acquisition and AFR is committed to servicing existing leases and maintaining the one-on-one relationship in which Aaron's Office Furniture customers are accustomed. Aaron's customers can rest assured that they will enjoy continued quality of service, expanded inventory offerings and excellent products moving forward with AFR Furniture Rentals.
"From a business standpoint the addition of Aaron's Office Furniture to the AFR family was an easy one. Ron Benedit and his senior staff bring decades of experience in the rent-to-rent industry, and we welcome them to the AFR team. We know that at times change can be daunting, but our promise to former Aaron's customers is an easy transition, quality furniture, and the continued great customer service they are used to," commented Neil Scholnick, CEO, AFR Furniture Rental.
"Here at AFR we could not be more pleased with the acquisition of Aaron's Office Furniture. We view the addition as an expansion of our business as we continue to grow our company into new market segments and expand our presence nationally," commented Jerry Hellmann, President, AFR Furniture Rental.
"As Aaron's, Inc. continues to focus on growing its core business of lease ownership in residential furniture, consumer electronics, home appliances and accessories, we are pleased to reach this agreement with AFR for our office furniture division. With AFR's outstanding reputation in the industry and its strong management team, we are confident our customers will be in good hands and will continue to experience the excellent service they received from Aaron's," said Ken Butler, Aaron's Chief Operating Officer.
With a deep commitment to serving its customers needs in the best way possible, AFR is focused on continually evolving in an exciting marketplace with innovative products and superlative customer service. AFR Furniture Rental is one of the industry's largest furniture rental providers of residential, home staging, and commercial rental furniture and has grown to be a premiere provider of trade show and event furniture rentals. Along with furnishings, AFR offers a full line of houseware rentals, kitchenware including linens as well as electronics and artwork. With locations throughout the United States, AFR is a national, full service provider.
For media inquiries/hi-res images, please contact Tricia Schmitt, at 856.406.1206 or email tschmitt@rentfurniture.com For more information on AFR Furniture Rentals, please visit www.rentfurniture.com.
Being a vendor during the DNC and working on multiple events every day has been a great experience to say the least. With all of our months of organizing, planning, and creating timelines; we thought we were ready for anything, but as each day passed we ran into the unexpected. What I mean is, we had challenges with last minute schedule changes, street closures, security credentials, and logistics.
Speaking of security. It has been ever changing. As the week has gone by, the security has gotten stronger and more stringent. We started out with police on bicycles, then came horseback and motorcycle officers, followed by state troopers, and then came the SWAT trucks, Homeland Security and now today, the Secret Service. It has been very challenging getting around Charlotte to make our deliveries, but with patient determination, we have succeeded each and every time.
At day five we are more than halfway through the DNC Convention and so far so good at overcoming each obstacle that has unfolded. We've quickly learned to take one minute at a time. As we take on each day we can see our events unfold and come to life, and it makes all of the long days, hot weather, torrential downpours, last minute changes and deliveries, well worth it.
Changes can be challenging, but we go above and beyond to accommodate each and every one of them. On Sunday, we had a client for a Delegate Reception request specific colored pillows at the last minute, just hours before the event. We made it happen after two hours of rushed shopping at six different stores, walking eighteen blocks, and clearing through police barricades, security checkpoints, and then running through a parade of protesters, we finally made it back to the venue in time to finish the setup and ultimately satisfy our client. Satisfaction is simply how we define success.
A few other highlights this week for the AFR Team were meeting the Mayor of Charlotte, Anthony Fox, and having a photo with him, seeing the MSNBC Live interviews with former Governor of Pennsylvania, Ed Rendell and former Speaker of the House Nancy Pelosi. The air is charged with excitement, and the experience is cool, no matter how you look at it.
In addition to having fun, we have learned our lessons this week and the biggest one is that no matter how prepared you think you are – when the Secret Service and the high-ranking government officials are involved – all bets are off. Things can and WILL change from moment to moment. But if you roll with the punches you will get through each day as we have – very successfully. We have a strong team that works seamlessly together and I'm happy to say we have managed to spotlight AFR Event Furnishings all over Charlotte as well on the National stage. There are still three days of events left to produce and we are excited that there will be more memorable experiences this week. We are sure that the stories that will go with them will provide memories of a lifetime.
Check back with us at the end of the week with more photos and success stories!
Live from the Democratic National Convention in Charlotte, North Carolina, this is Team AFR!
| | | |
| --- | --- | --- |
| | | |
| Bechtler Museum of Modern Art | | Wadsworth Estates |
| | | |
| | | |
| Rosedale Estates | | Google Experience |
The AFR National Tour started with a kick off in Orlando on July 26th. "Countdown to Chaos" took place at Majestic Event Center, a new event venue in Orlando.  The theme was "the end of the world" and the décor welcomed the guests into a dark and edgy bunker bash with chain-linked fences, poison barrel, air-duct centerpieces that perfectly accented our Titanium covered Function pieces and Grammercy groupings.  Upon arrival guests were greeted by a 12 Foot Tornado display equipped with flying cows, cars and trees – the perfect backdrop for a photo op!  This doomsday event captured the interest of over 550 local industry professionals and 24 sponsors.  The caterers took their displays to a whole new level to accommodate our theme, some including M.R.E's (Meals Ready to Eat) and on-site torched appetizers.  We also had our first annual Designer Challenge where the top designers in Orlando competed to create the best display utilizing assigned AFR pieces.  Raining Roses was our winner!
AMAZING video of our tour kick off in Orlando~ thanks to Voila Cinematic!
Some photos of Orlando's event:

And, as if we aren't crazy enough hosting events in 11 cities in 3 months…. On August 22nd we hosted 2 tour stops simultaneously!!!!
IN BOSTON:
The New England stop on the AFR National networker tour  was held last night at the beautiful Revere Hotel in downtown Boston. Keeping with the" Passport to Design theme" we transformed  the Revere's new venue "Space 57" into 6 different Exotic destinations from around the World . As guests entered through Bora Bora  they got a first time look at our new Grass collection as they walked  through white palm trees reaching over 20 feet high. Next stop was a colorful display of Brazil's Carnival  which featured our new Evoke  outdoor Collection along with our Imperial Purple and bright Tangerine benches. Venice (designed by VDA Productions) was right next door showcasing our Black and White Crystal Button collection paired up with black and white drapery and matching dance floor. Tucked back in  the corner was a lost treasure where you were taken  back to the Marketplaces of Morocco as you relaxed on our extravaganza slip covered chairs. Africa (designed by Future Affairs Productions) was on the horizon as the centerpiece of the room where Elephants, Giraffes, Zebras and Leopards surrounded our Outdoor Broadway collection.  Finally the last stop was back here in the USA as Nantucket Island (designed by Future Affairs Productions)  came to life with an array of beach like settings and guests were able to sample New England Clam Chowder, Homemade Potato Chips, Lobster roll sandwiches ,Mini  Burgers and hot dog sliders. Over 300  Event Professionals were able to enjoy this 3 hour  trip around the world thanks to  the generosity of 15 sponsors  which included 3 of New England's top designers and our hosts AFR Event Furnishings and Rentals-Unlimited! Photo collage below:

IN MIAMI:
Miami hosted this year's event at a new super cool location- The Dezer Collection.  This year we came up with a really fun way to give you an insider's look at the creative process of their competing designers. Michael & Tiffany at The Beacon created short fun video clips of the designers hard at work creating their rooms. You can visit the AFR YOUTUBE CHANNEL to see these videos. Each designer was tasked with creating a room around one of the famous cars in the Dezer Collection. Cars included Mad Max, Scooby Doo, Batman and Grease Lighting.  Be sure to check out the videos!   A unique photo booth was constructed out of AFR LED Light cubes where guests enjoyed a taking photos that were automatically uploaded to instagram with the AFR hashtag #afrnationaltour – the feed was constant throughout the night. Have you ever eaten the same food a U.S. President and Pope John Paul II? Well 450 event professionals from South Florida did last night as the event was catered by Bill Hansen Catering and he only caters for the best! Another photo collage below:

A SPECIAL THANK YOU TO ALL OF THE SPONSORS WHO WORKED SO HARD TO HELP US SHOWCASE OUR FURNITURE IN SUCH A FUN, EXTRAORDINARY WAY! CONGRATULATIONS TO THE ORLANDO, BOSTON AND MIAMI TEAMS FOR HOSTING SUCH SPECTACULAR EVENTS! ALL THREE TOUR STOPS WERE OFF THE CHARTS! WE'LL SEE YOU ON IN ATLANTA ON 9/6!
As I sit down to write this my mind is filled with so many of the different emotions that I experienced last month during the Event Pros Take Action mission. For those of you that know me well, you know I'm expressive. After this trip though, I've been labeled the 'crier' of the group. Honestly, I don't mind. This was a deeply poignant experience and one that touches me in ways I never thought possible. This is powerful stuff.
I'm sure you all remember the images of the ominous arrival of Hurricane Katrina on August 29, 2005 as it loomed on the horizon. I know I watched in horrified fascination as millions of people frantically tried to get out of its path. Perhaps burned even more vividly in my mind is the swath of destruction and human suffering the storm left in its wake. That nightmare is still a reality to thousands of people struggling to rebuild their homes and reclaim their lives seven years later. They are suffering. It is unconscionable and they need help.
Last July, AFR Event Furnishings joined with Event Pros Take Action Organization, and embarked on EPTA's (known then as Operation Outreach) inaugural trip to help rebuild the lives of families that are still misplaced due to the devastation left behind from Hurricane Katrina. Working in conjunction with St. Bernard's Project, AFR was part of an industry team that helped design and completely furnish homes for two very special families, in addition to providing over 10,000 household items to hundreds of others throughout the area. They were simple creature comforts that you and I take for granted – glasses, dishes, pots and pans, silverware, towels, and bedding. It was hard work, but the result equaled a life changing experience. It was just the beginning. This year, we went back. It was even more powerful.
On July 17th – 20th, Event Pros Take Action (EPTA embarked upon their second mission to New Orleans to continue the good work they started a year ago. Through the generosity, donations, and talents of special event, hospitality, and manufacturing professionals nationwide, EPTA was able to turn two more "houses" into warm, beautiful "homes", and also improve the quality of life for an additional ten families still struggling to survive in the face of destruction left by Hurricane Katrina.
Partnering again this year with St. Bernards Project (SBP), an organization that rebuilds the bones of the home, our "Design Angels" – Richard Carbotti of Perfect Surroundings and Mark Wells of Hello Florida – worked closely with our two survivor families to create the home interior of their dreams. After learning what each of the families envisioned for their dream interiors, plans were drawn and the implementation and transformation began. For four days, approximately fifty event pros withstood sweltering heat, torrential rains and less than ideal conditions to deliver small kitchen appliances, housewares and soft goods to ten families throughout the 9th Ward; completely paint, finish and refurnish the two family homes – and ultimately restore the serenity to the lives of the Shelley Rose and Larry Carriere families. Their stories are touching. I had the opportunity to spend some time with Shelly Rose, and let me tell you, she is one amazing and inspiring woman! Let me share a piece of her last seven years with you.
Shelley is a courageous woman fueled by a heart of determination. Her Soniat Street family home was lovingly built by her grandfather and has been home to four generations of the Rose family. It's always been home, but not since August 28, 2005.
When evacuating the city to get out of the path of Hurricane Katrina, Shelley and her family got lost in the disastrous evacuation traffic jams clogging highways across the state the day before Katrina hit. Fortunately, they found themselves in Broussard, not far from a friend of Shelley's sister who lived in Lafayette. The friend picked the family up, and they weathered the storm together with eighteen other people. They were safe, but their beloved home on Soniat Street didn't fair so well. The roof caved in and the back walls collapsed and their possessions were destroyed.
In July 2007, determined to return to their neighborhood, Shelley, Micah, and Jamisen moved back to Soniat Street to a house just across from their old home. They were the sole family to return to the neighborhood. They were able to repair much of the damage, but when a dishonest contractor stole most of her money, their dream all but came to a halt. To add to the disheartening turn of events, after they had put up a great deal of new drywall, they discovered the walls were infested with toxic mold. While Shelley works at an electric company, she does not earn enough to support her family and repair the family home. Yet, she did not give up hope.
Time marched on, and while living across the street from their ancestral home, the Rose family has grown. Shelley now has two granddaughters, Saniya, now almost three, and Ezri, almost a year old. The Rose family dreamed of the day when they could move back across the street…to move home…to continue their family legacy.
I'm happy to share with you, that last month, Shelley's dream came true. They are home. Their house is finished complete with a playroom for her grandchildren. To say it was a heart filling moment to watch Shelly cut the tape and enter her "new" home – this time to stay for good – is an understatement. It was a powerfully life changing experience for me, and one that I will cherish for the rest of my days. In addition, Shelley and I have forged a great friendship, and I'm ever so thankful for the opportunity to have her in my life.
Shelley and her family were so thrilled to be back home that even though the electricity wasn't being turned on for a week, they stayed there…preferring to "camp out" rather than spend another minute away from home after waiting seven years to get there.
I am so proud of my co-workers, our clients, partners, the Mermaids at Mosiac (the founders of Event Pros Take Action), Design Angels (Richard Carbotti and Mark Wells) and all of the volunteers that stepped up to the plate. It was inspiring to see so many people band together in a single goal. It has restored my faith in humanity. It has made me realize the power of community. It has exposed the compassion that far to often remains hidden as we hurry through our day-to-day lives. It has provided elegant proof that there is power in kindness and helping your fellow neighbor.
While our day jobs at AFR is to assist event professionals design the big celebrations of life – weddings, anniversaries and corporate milestones – it's our personal joy to celebrate the moments between those events, which are even more important, and just as sweet. Celebrating with the Rose and Carriere families are just two examples of those important moments.
I would implore you to get involved in ETPA, to be a part of something that is bigger than yourself, and reach out a helping hand to those in need. The work is far from done, and we can't stop here, but rather press on, one step, one family, and one action at a time. Together we are a powerful force that can change the world.
So perhaps now you can understand my tears. They are happy, sad, excited, inspired, tired, grateful tears of all the emotions that have defined the EPTA mission last week. What's most interesting about the whole experience is that the Rose and Carriere families believe we changed their lives…but they don't know just how MUCH they changed OURS.
AFR Event Furnishings is deeply involved with the special events industry's newest charity EPTA (Event Pros Take Action) and we would encourage you to find out more about how you can be too. If you haven't seen the video or want to know more about the work EPTA does, or get involved (hint), you can find more details at www.eventprostakeaction.com.

We are thrilled to partner with etouches as a National Sponsor for the 2012 AFR National Networking Tour this year! If you don't know of them, you should, so let us tell you just a little bit about who they are and what they do.
etouches is making our lives easier as we pack up to head out on the National Tour by providing AFR with the etouches platform to organize each of the networking stops. We think it's a great way for you to see them in action.
So exactly what is etouches in plain language? In short, it's a software platform that includes everything you need to help you make your event successful. While you won't get to see all the back office bells and whistles on your end, what you will experience is how effortless the registration process will be for you, and that's because of etouches. On our end it helps us accurately track attendance and make sure that we are on top of every detail for each event. With eleven events to manage at one time, we're sure you understand the importance of keeping on top of each and every one. Are you curious to learn more about them?
You can drop by www.etouches.com where you will find in depth information on all their products, view product demos, and even sign up for free 14-day trials for hands on exploration. Have more questions? No problem, you can talk to an etouches representative in person while you're at our AFR Networking Tour Events.
We are excited, appreciative and really looking forward to working with etouches on the AFR National Networking Tour this year. We're confident that you're going to love them too!
So what are you waiting for? Take a moment and RSVP now, and save the date for the AFR Networking Tour in the city nearest you. We look forward to seeing you there!
To RSVP now, go here: www.2012afrnationaltour.rentfurniture.com
BE PART OF THE CONVERSATION:
Get involved in one of the events industry's most talked about events by following us on Twitter @AFR_Rentals and joining the conversation with hash tag #afrnationaltour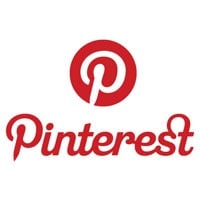 Haven't heard of Pinterest? You will. The social media site is growing fast, with many observers calling it the next Twitter.
There's a big difference, though; where Twitter's focus is on text, Pinterest is visual. The site allows users to 'pin' photos or video to customized bulletin boards. You can have as many boards as you like, and the topics are limited only by your imagination. A cat lover might collect dozens of cute feline photos, which friends can discuss and 'pin' to their own boards. Or if you're interested in hot event furniture and event design, check out our image gallery and use the 'Pin It' button to pin our photos to your account.
Do you have a great collection of photos? Let us know! Find us on Pinterest at http://pinterest.com/afrrentals/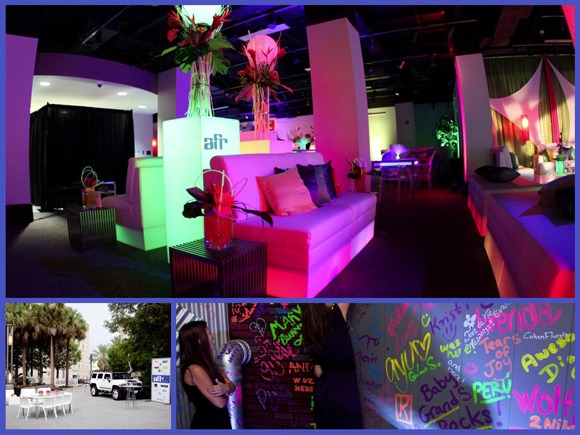 Back by popular demand, the 2012 Annual AFR Networking Touris coming to a city near you this year! You won't want to miss the chance to network with old friends, meet new suppliers, see great products and showcase your business! 
Last year, the numbers rang in at over 3500 guests and 200 sponsor partners in eleven cities across the United States. This year we are aiming even higher.
Get involved in one of the events industry's most talked about events by following us on Twitter @AFR_Rentals and joining the conversation with hash tag #afrnationaltour
Come out and be a part of a great evening as AFR Event Furnishings brings the events community together one city at a time.
Find out more information about the Networker in your area at www.2012afrnationaltour.rentfurniture.com
There are still plenty of opportunities available to be a national tour partner. Please email tour@rentfurniture.com for more information.
We can't wait to see you there!