Hornblower Cruises & Events
Pier 40
November 19, 2012
Guests: 223
Bringing the events community together one city at a time.
We promised our guests world-class cuisine, the latest trends in event furnishings, and exciting entertainment aboard a state-of-the-art luxury yacht. That's just what we delivered at our last stop on our National Networking tour on November 19th in New York City.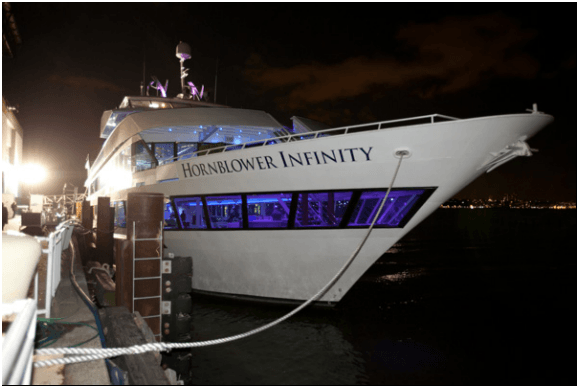 Guests arrived at Pier 40 via a red carpet to registration in the Cruise Terminal, left their autograph on a piece of our Tag It Furniture, and were led out onto the pier to board Infinity. Our luxury yacht would take us to the exquisite ports of Japan, Italy, Monte Carlo, Cuba and the Caribbean. Looming in the background, the twinkling nightscape of New York City provided the perfect backdrop for embarkation on our journey.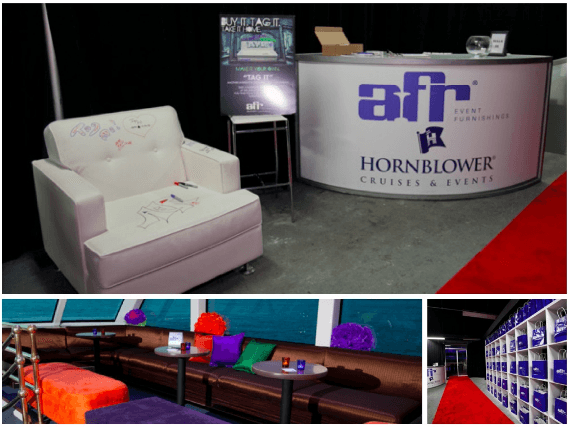 Slide walls on either side of the gangplank let guests know that AFR Event Furnishings and Hornblower Yachts & Events were their hosts for the evening. Boarding the yacht, ship's officers welcomed each guest on board and directed them to the aft of the ship where rum drinks and the sounds of steel drums invited guests into the warm and balmy breezes of the Caribbean. Our Evoke furnishings created the etouches lounge and we featured the bright colors of the islands with our Tangerine & Imperial ottomans with color popping pillows.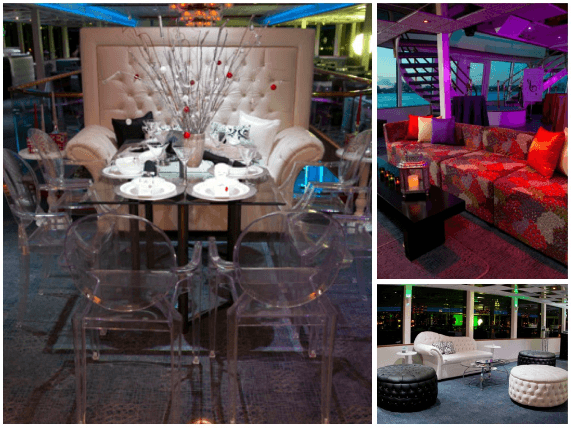 Moving upstairs to Monte Carlo, guests were welcomed into the Royale Casino where they could relax on the Crystal Collection and enjoy a glass of bubbly from the champagne bar created from our black and white Crystal Collection bar surrounds. High back Crystal love seats created tablescapes with Vivid tables which were surrounded by Ghost Chairs. Scattered around the area Chardonnay High Tops with clear acrylic Ghost stools. The high rollers were in the house so the stakes were high, and guests could try their hand with Lady Luck at the black jack or craps tables.
Guests not gambling filled their plates with freshly carved Filet Tenderloin and Crab Claws from the Grand Central Buffet or tried out the virtual photo booth and taking a cruise photo to have as a keepsake of the trip.
It was time to head back out on the high seas to exotic Morocco where more adventure awaited. Our Function line was dressed in Extravaganza covers with wooden Hayden benches for accent tables and topped with colorful glass and metal lanterns and floral. Libations flowed freely from a premium full bar serving any drink that guests dream up. High top tables covered in jewel toned linens of golds, purples and oranges provided a place to set a drink or plate while guests conversed and networked.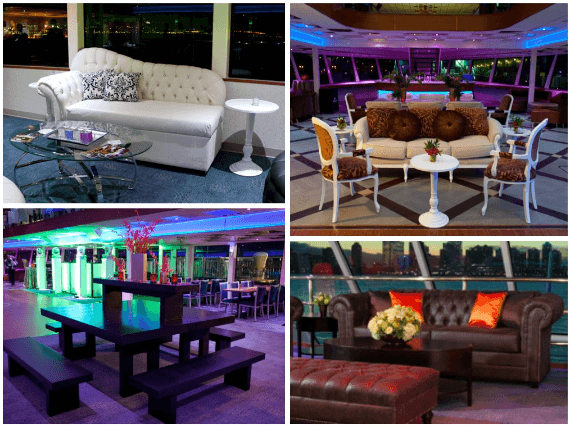 Next stop was Japan where guests could indulge in delicious Asian cuisine. Pot stickers, dim sum, shrimp fried rice and noodles filled plates and guests sat at community styled dark wood Hayden tables with bench tops finished with striking floral and candles. Around the area were high tops draped in red linen. Entertainment reigned supreme with a DJ and light show and acrobatic floor acts performed throughout the evening.
Of course what would a world cruise be without a stop in lovely Italy? In this area, Vermont tables created buffets for Antipasto displays and artisan breads. Our Chateau Collection was featured with more Vermont tables for dining areas with a full bar where guests could enjoy a glass of wine or partake in liquor and spirit tastings.
Upstairs on the third floor of the ship, there was time for one last port – Cuba. The Winston Collection was featured and guests could relax in luxurious lounge pods created from sofas, armchairs and ottomans accentuated with espresso coffee and end tables from our Harmony line. Wooden pub tables with barstools finished the setting and then we added some pillows and stylized florals for a final touch. Guests enjoyed a selection of draft beers from around the world.
After Cuba it was time to head back to New York City where the boat docked back at Pier 40 and in the Main Room upstairs we created the Blue Note Lounge and held a docking party where our travel weary cruisers enjoyed a beautiful dessert station created from Cylinder Buffet tables, grabbed an espresso and enjoyed a jazz trio. Cylinder pub tables were surrounded with acrylic barstools and created contemporary look. Guests grabbed one last memento at the photo booth and enjoyed the sparkling cityscape of New York.
As guests disembarked and headed out through the cruise terminal, they were presented with sponsor bags from White cubed bar backs.
Speaking of sponsors, New York was our final stop on the 2012 National Networking Tour, and as always, we could not have cruised around the world without the support and help of our partner sponsors. Special thanks and gratitude to Drape Kings, NYPW, City Iris, Catch the Moment, Hornblower Yachts & Events, New York's Best, Heliumm, Eclipse Entertainment, Catch the Moment, 5th Avenue Digital, Classic Party Rentals, All Spirit Events and last but not least, etouches. You are the best!
What better way is there to spend a cool fall evening in Southern California than to hang out at a beautiful wine bar in San Diego tasting wines from all over the world? That's exactly what AFR Event Furnishings guests were treated to at the AFR Networker this past week in San Diego.
Arriving to the venue, strains of a Flamenco guitarist set the international tone of the event. Entering into 57 Degrees, guests were quickly registered at stations created from branded VIP Glow Bars bars backed by branded water walls, and presented a wine glass with a numbered cork and a list of wines available for tasting throughout the evening.
A champagne girl greeted guests and offered a glass of welcome bubbly and then it was off to experience delicious pairings of exquisite wines and furniture collections.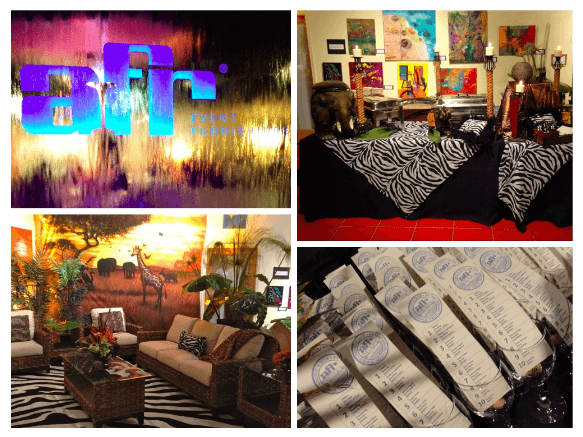 Call of the Wild: South Africa
In South Africa, we featured the Broadway collection with accents of faux animal print pillows, throws and rugs and floral in a setting of lush foliage with a back drop of African wildlife. A Villiere Pinotage and traditional sparkling wine were served by a sommelier from Umber Bars. These were paired with Lamb Kabobs and Polenta (oh so tasty). Later in the evening, you could stop by the Espresso Bar and pick up a delicious cup of energy.
Viva La Mexico
Our neighbor to the South provided a lovely Santo Tomas Merlot and a Red Blend dinner wine. In this area, guests could relax in the etouches lounge on our Function collection intermixed with colored cubes and accented with brightly colored pillows. Regional buffets were created from a Hayden table covered with serapes and served up delicious tacos with homemade salsas that made your mouth water with appreciation. Also, featured was a Vermont Farm Table Top design surrounded by Chateau chairs and topped with stunning floral, winter greens, pinecones and candles. A Hayden dessert bar was designed from a Hayden table and bench. Guests fed their sweet tooth with mini bite desserts and snapped shots using Guppy Pod and posted on Instagram or had photos printed to take as a memento of the evening.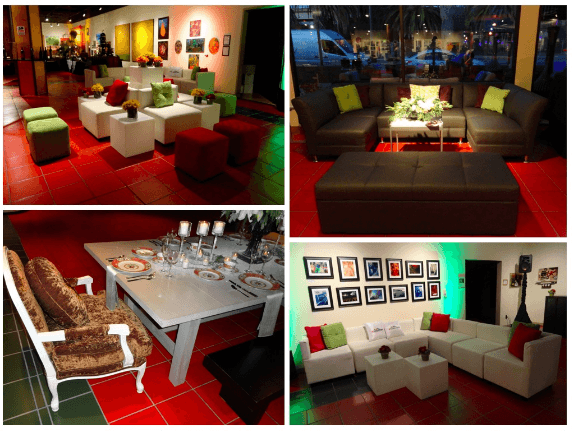 The French Countryside:
What would a wine tour be without some time in France for tastings of Chateau Clos Bourbon or a Domain Eugene Carrel Jongiex served from dark wood Umber Bars? Guests also enjoyed Coq Au Vin with fresh French rolls and an al dente vegetable medley. Again, mouth wateringly delicious. Guests could relax in a French Farmhouse setting created from the Chateau Sofas topped with chocolate brown velvet pillows, Marteen chairs and dark wooden Harmony tables. Another tabletop design featured a Vermont table surrounded with Dijon chairs and finished with gorgeous floral, candles and a replica of the Eiffel Tower.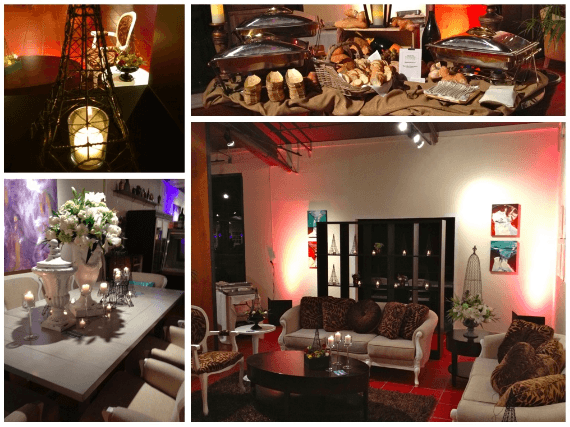 "Que bola asere" Cuba:
Out on the covered patio, guests stepped into Cuba. Here they could relax in Cigar Lounge on the new Winston sofas and ottomans, accented with dark wooden Harmony Sofa Tables, and topped with simple brightly colored floral and flickering votives. A professional cigar roller demonstrated the art of cigar rolling and guests could enjoy them there, or take them as a memento of the evening to enjoy later.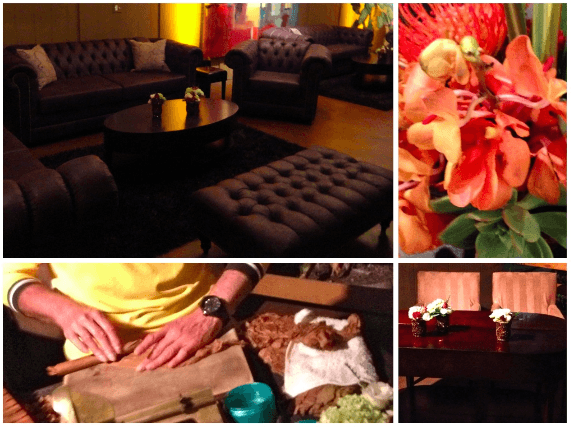 The Golden Coast of California:
No wine tasting would be complete without enjoying wines from California, and networkers tasted a Diamond Ridge Pinot Noir or a Derby Bordeaux Blend while enjoying gourmet sliders in our Grass Collection lounge. Scattered throughout the area were Plaza Chaises and Love Seats or Crystal groupings with glowing club tables. A DJ mixed tunes from a booth created from a Crystal bar surround.
If wine wasn't your thing, then you could step out on the patio and enjoy a Stone Pale Ale or a Wheat Shocktop and relax on the Metro and Evoke collections or perch on a Criss Cross Espresso bar stool at a high boy table and listen to a flamenco guitarist.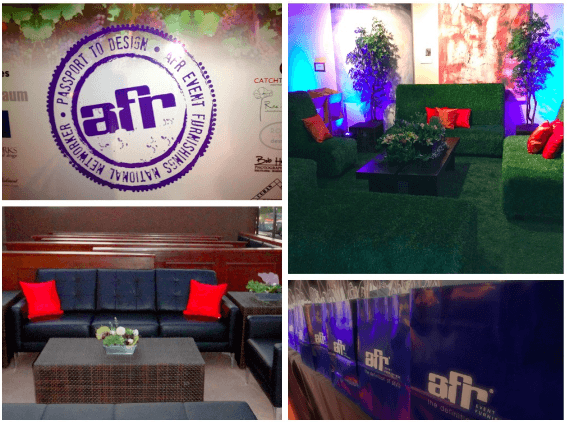 Additional lounges throughout common areas of the venue were designed from the Crystal and Grammercy Collections.
It was an exotic, relaxing evening and without our sponsors it would have been, impossible. Special thanks to etouches, Fifty Seven Degrees, Champagne Creative Group Las Vegas, Catch The Moment, Room For Dessert, Rae Florae, Tim Altbaum Productions, American Turf and Carpet, Cuban Cigar Factory, Backdrops Beautiful, Embellishmint, Classic Party Rentals, EuroBar, Bob Hoffman Photography, Continental Catering, Anthony Garcia Flamenco Guitarist, San Diego Events Lighting, Hartworks floral design, Lois Mathews Design and The French Gourmet.
We're off to our last stop of the tour in New York City. We can't wait to see you there!
At our next stop, 225 guests took time out of their busy schedules for a quick trip around the world at the AFR national networking tour stop in Philly on November 7, 2012.
Arriving at 2424 Studios, guests were quickly registered and then headed inside for their 180-minute trip around the world.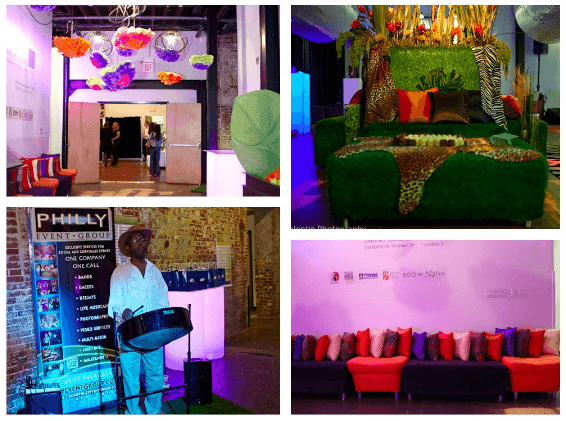 Welcome to South America! With flair of Rio, paper flowers hung from the ceiling and the space featured the Tangerine and Imperial collections topped with Extravaganza pillows. A steel drum player set the party mood. Candy and espresso stations were created out of Umber Bars and featured a Chiquita girl in a red dress…nothing quite like an "oohlala" to start off a great party.
Next it was onto the etouches lounge and a stop at a photo booth where guests had their Passport Photos taken and then headed onto Australian Outback. Vermont tables were set up as design tabletops and were intermixed with the Chateau collection. Add in some animals skin rugs, and the look was rustic and warm.
Globetrotting guests headed north back up to North America – New York City to be exact. In this area, the look was sleek and modern. With food stations created with white square café and Tetrad tables. Beer and wine were served from Manhattan Bars. Bravo high tables with nickel finish provided a place to set a drink or plate of delicious bites from the buffets. Guests could dance to a DJ spinning party tunes or paint it up at the Graffiti Wall.
Then it was across the pond to Europe and romantic Italy. Hayden tables and the Crystal Collection were the foundation for the design here. Stylish and lovely, a dancer/model posed and moved on a crystal chaise and ottoman. A glass blower designed gems and charms for guests to take with them as a memento of their trip. VIP Glow bars with white crystal bar surrounds served as food stations and were laden with delectable hors d' oeuvres.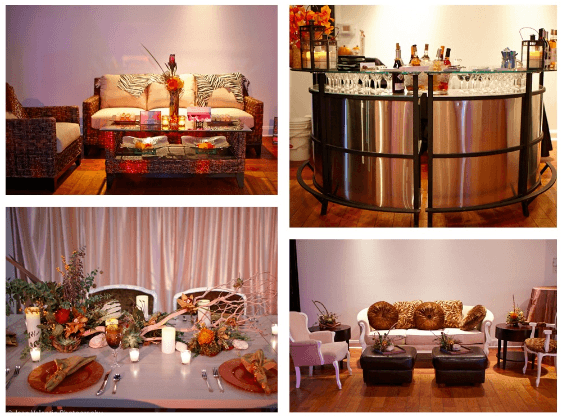 An African Safari was next where our Grass Line was combined with the Winston, Harmony and Broadway collections to create eclectic lounge groupings throughout the area. Umber Bars with Regal Leather Bar Stools provided a place to perch and enjoy a glass of wine or a cold beer while enjoying a delicious cupcake or have the Tarot Card Reader foretell their future.
In Asia, guests stepped into another world where Japan provided a beautiful experience. Created from 16' black sheer drape, a big Buddha surrounded by flickering candles and floral accents created the peaceful Zen of the space. Hayden benches created low-lying tables surrounded by black pillows were guests could sit and enjoy dining Buddahkahn style. Our Evoke Collection provided additional seating. Beautiful displays of Asian foods completed the experience.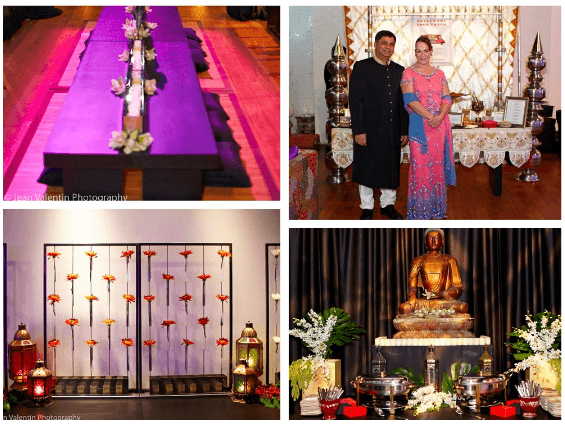 In India, it was all about the lovely colors found within the markets and street bazaars of the country and our Function line with Extravaganza covers set the tone. Bollywood style buffets were laden with Indian foods and served by wait staff in traditional Indian finery.
Under a high peak top white tent, icy Antarctica was set in white with cool tones of blues, and our snowy white Sophistication collection fit right in. VIP glow bars created icy Vodka bars and Adult Snow Cones that helped keep the chill at bay.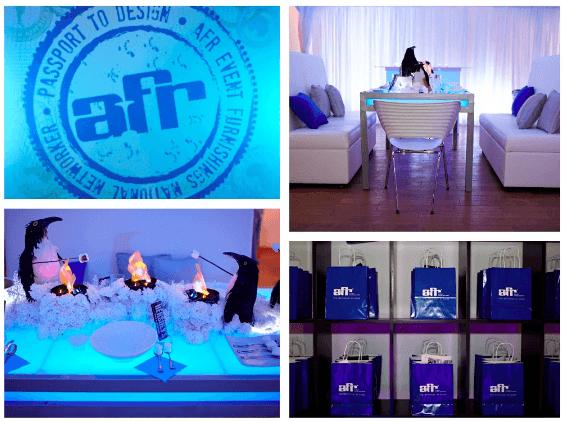 Well that's it folks, it was a whirlwind of a trip, and as guests left for the evening, they were each presented with an AFR gift bag filled with goodies and treats from our generous partner sponsors for the evening. Before boarding the shuttles back to the parking lot, guests stopped to get one last good night snack at one of the food trucks on their way out.
Special thanks to our partners, etouches, 2424 Studios, Eventricity, Philadelphia Event Planners, Gala Clothes, Jean Valentin Photography, Marilyn Sukonick-Zeff, Catch The Moment, DJ'S Available Sound & Light, Paper Rock Scissors, Philly Event Groups, Cupa Cabana, Creative Juice, Choc.oh.lat!, Cinemacake, Wiggle Productions, LLC. Tonz of Fun!, EventFX, Bollywood Indian Cuisine, Event Hospitality Solutions, CutflOwer Exchange, Southern Wine & Spirits of Pennsylvania, Rolling Barrel, Video Game Parties, APLUS at Sunoco, Empire Valet, Mid-Atlantic Limousine, Shutterbooth Philadelphia, South Jersey Party Rentals, Cupcakes Gourmet, and last but definitely not least eva.e.glassworks and CCP Hospitality & Catering!
We've got to run…see you in a few days…next stop…sunny San Diego!
We are just back from the Las Vegas World Market Center where 300 top event professionals experienced the sizzling hot energy and excitement of the 2012 AFR Networking Tour and Showcase – "Electric." If you missed out on the event October 18th, you are going to want to read all about it. Imagine the excitement; feel crackle of Sin City…experience the tingle of anticipation…now you are in the right mood…read on.
Valet welcomed guests to "Electric" and directed them onto a 100-foot long, lit, purple carpet lined with interactive entertainers paving the way into the event. Our Hour Glass Pub tables stacked high and glowing with electric blue light topped with cascading floral created a branded entryway featuring our new AFR waterfalls. We love using standard items to create unusual solutions, and the entryway was a perfect example of how we get creative.
Moving through registration, guests were entertained by a magnificent 12' tall opera singer before loading into elevators to head upstairs to World View. Arriving on the 16th floor, the entry into the event was draped with lit floor to ceiling fabric columns.
The panoramic view from World View was spectacular with downtown Las Vegas on one side and the Vegas Strip on the other providing a stunning backdrop for the evening. Throughout the space were several vignettes of AFR furniture collections, food stations and bar including an Alien Tequila tasting bar. Yes, aliens in Las Vegas. We thought you knew.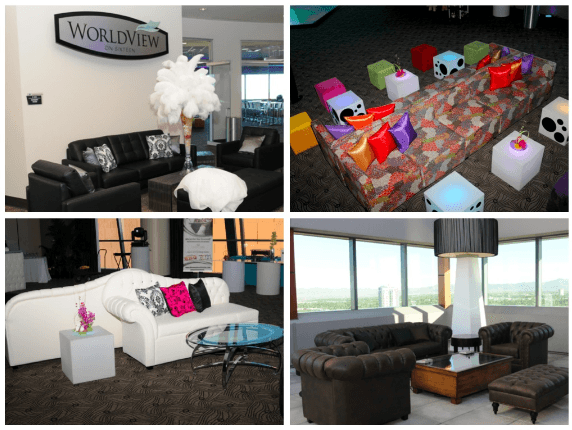 The Twitter Lounge featured the Winston Collection; enhanced with 11' tall Regency lamps topped with 5' white ruched shades adding a modern edgy vibe. Throughout each area we featured different furniture vignettes including our Function line with Extravaganza Slipcovers, our Black and White Crystal Button Collection, the Broadway Collection and our brand new Winston Collection, along with the Evoke and Grass Collections intermixed for several different styles and looks. In addition, we created two different visions with our Vermont Farm tables, the first with ghost chairs, and the other featuring our Marteen and Dijon chairs from our Chateau Collection.  In one area there was an amazing ice sculpture with the Electric AFR Logo, and in another area a mosaic wall with an AFR logo created from photographs of guests. The evening was eclectic, and interesting from beginning to end.
"Electric" was all about experience – a Vegas experience to be exact – so you can imagine that the entertainment in "Club Electric" was simply over the top. The performances by the Neon Drag Queens and the Disco Ninjas in a Bubble on the LED dance floor were to put it mildly – well, electrifying! We loved every minute of it! If you were looking for something other than dancing, there were plenty of activities and games in which to partake, or you could try your hand with Lady Luck.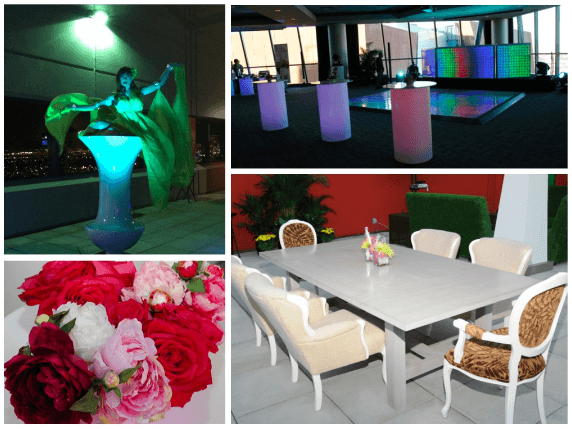 Buffets were laden with delicious food prepared by Las Vegas' premiere caterers which were easy to eat, and sinfully delicious. We especially loved the cupcakes and cake pops…but who didn't, right?
Bars were plentiful and served up specialty drinks and libations from our curved VIP Glow line and were branded with the event and sponsor logos.
Midway through the night, we revealed a surprise – a Cigar and Scotch Lounge. Located down on the first floor, and a separate space entirely, the entrance was designed from white fabric pillars with white feathers bursting from the top of each pillar. The room was shaped from beautiful fabric drape with star a lit sky overhead. Inside the lounge, a 1940's ambience with large vintage photos of the Rat Pack and Las Vegas set the stage for several vignettes of our new Winston Collection. To complement the look we added in our new Wooden Umber Bars and hi-tops surrounded by Regal Barstools.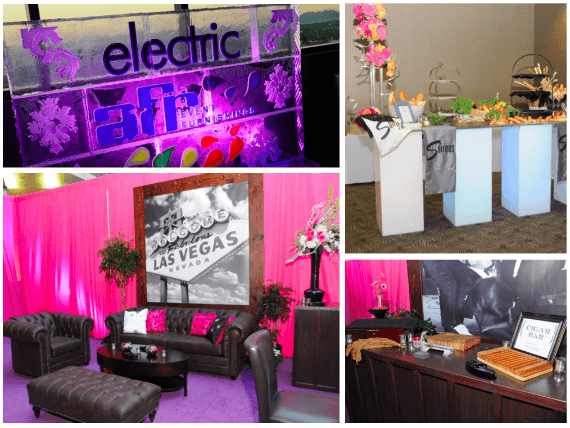 Shadow Dancers, a lounge singer and a DJ provided just the right mood for guests to enjoy their favorite cigar and Scotch. A Scotch specialist was on hand to provide expert information and advice on the different Scotches available for tasting, and a cigar roller artfully rolled perfect cigars for guests to smoke or take with them.
As they were leaving the event, guests were given a gift bags containing small mementos, special offers and marketing information from each sponsor partner. Every minute of the evening was about engaging, networking – and having a lot of fun! Mission accomplished.
It takes every AFR team member to produce these events, and we are appreciative of each of them! And, last but not least, the Networking Tour would not be possible without the commitment and generosity of our partner sponsors. Our special thanks and appreciation goes out to:
etouches, Las Vegas World Market Center, Mundo, Soirees Catering, Masterpiece Cuisine, Let Us Eat Cake, Tasty Little Sins, Events with a Twist, Liquid Courage, Absolute Beverage, Monster Energy Drinks, Ice Occasions, Floral 2000, Freeman AV, Best Agency, Champagne Creative, Neon Drag Queens, Antonio Restivo, Unistaff, ByDzign, AOO Events, 24/7 Productions, Team ACME, Exhibit Fair Int'l, Earth Wind & Sky, Absolute Amusement, Quest Drape, Power Event Productions, Proforma, Moss, American Turf, Roger Pryor, Current Events, Christie's Photography, Reel Lab and Cigar Row.
Our next tour stop is Philadelphia we hope to see you there!
Over 200 event professionals attended this year's tour stop at the Mead Center for American Theater in the nation's capital on Monday, October 1. The day started early with hard work from the AFR crew and our vendors to transform this beautiful venue into Fifty Shades of AFR.
As guests entered, they walked into the office where the CEO ofGreyEnterprise Holdings Inc. put in a lot of hours! Our vivid table served as his desk and the sleek black leather of our Metro and Grammercy groupings, complimented by the white leather of our Function collection, added class. Yours Truly Lighting and Décor did a wonderful job at highlighting each room!

From the office, you entered the Penthouse living room of Christian Grey at the Escala in Seattle. Beautiful drapery provided by Quest Drape provided the perfect backdrop to Function, Grammercy and Sophistication groupings for the modern look Grey fancied. The mood was really set with floral centerpieces and accents from Blue Vanda Designs, who did an amazing job with all of the flowers.

Christian enjoyed classical music while in his secret room, so what better than the serene sound of a cellist from Bialek's Music to invite you into the Red Room? This room featured AFR's newest collections. The Winston sofa and chair was showcased on stage in the center of the room. Our new Vermont table was complimented with Dijon chairs. Two peek-a-boo lounges surrounded the Chateau grouping, along with a Tuscany grouping. While in the Red Room, guests enjoyed a fabulous beaten to a pulp smoothie bar provided by our friends at Traveling Bean from our brand new Umber Bar!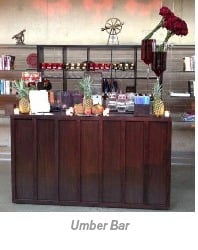 Guest's hung out on the Broadway line outside, while lighting up hand rolled cigars provided by Cigar Row.

Because Ana and Christian liked to unwind with their favorite champagne, we transformed upstairs into a crystal champagne lounge using, of course, our fabulous white leather. Continental, Crystal Button, and Plaza were used to create a whimsical feel. And Booth-o-Rama was there with fun photo booths and guests enjoyed music from Chris Laich. Market Salamander did the catering all served with Select Event Rentals stunning and area specific product.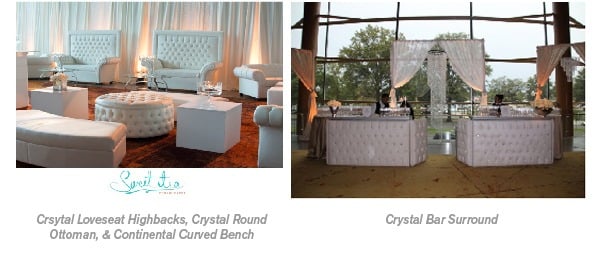 Spoiler alert…the coup de grace was the Happily Ever After section which was a serine picnic setting using our latest grass collection with floral!

And a very special thank you to our generous sponsors Etouches, The Mead Center for American Theater, Hosts, Blue Vanda Designs, Booth-o-Rama, Quest Drape, Select Event Rentals, Sweet Tea Photography, Atlantic Valet, Chris Laich Music Services, In Depth Photo & Video, Bialek's Music, Market Salamander, Yours Truly Lighting and Décor, FutureShow, Cigar Row, and Traveling Bean.
Laters, Baby!
The Dallas Networker was held on 9/19 at marc events located in downtown Dallas' Design District.
Guests arrived to the patio furnished with the Evoke and Grass Collections. The "Skinny Colada" was the signature drink, provided by Svedka Vodka, served from our new "Umber Bar"!

The theme was "Shatter Your World with Color" and the room was filled with the many colors of AFR- no white leather! Purple, Tangerine, Charcoal, Brown, Lime Green, Orange, Pink, Red and more!
Last week's event featured three Table Top Designs. Hayden with Tangerine benches was designed by Feature Presentations LTD. Absolutely Blooming used Vivid with Marteen chairs to create their look. And lastly, The Functions Event Group took our club table and hung it from the truss for a unique style!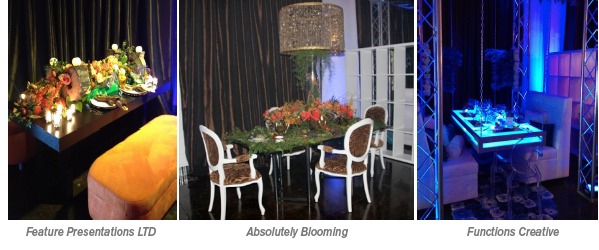 Our personal favorite vignette of the night was the new Winston collection, used to make a Man Cave! Don Ross Nabb Productions served street tacos and Shag Carpet & Speedpro provided our themed décor.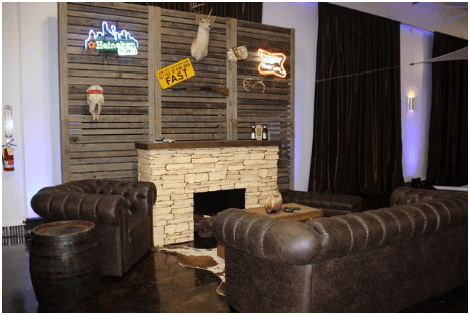 The Tag It area was super cool! Tag the sofa, write on the chalk table and create your own graffiti salad.  Guests were able to "tag" a love seat. The guest who tweeted the most during the event won the tagged love seat at the end of the night. Congratulations to our winner – J. Damany Daniel!!!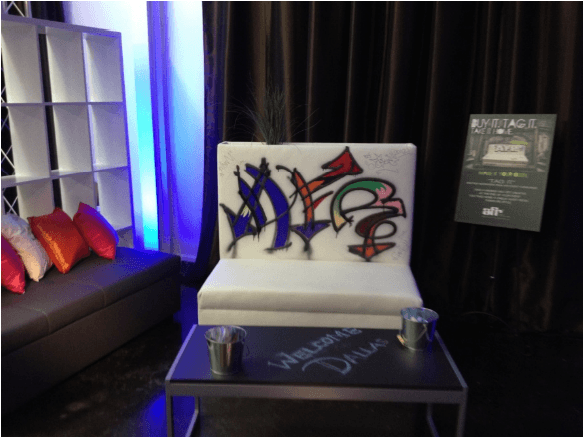 A special thank you to all of our sponsors of the evening! Etouches, Marc Events, Thisbe Grace Photography, GladTower Live Productions, Eclipse Entertainment LLC., Absolutely Blooming, Beyond, Don Ross Nabb Production Company, Freshmeet Media, Speedpro Imaging, Feature Presentations LTD., Shag Carpet Prop Rentals, Le' Popcorn, Astounding Sounds, Quest Drape, The Functions Event Group, Gemini, Dallas Brides, Dallas Modern Luxury, Encore Entertainment, Celebration Event Rental, Photomadic, and Triple Play Staffing.
Furniture isn't just about a place to sit anymore. It's morphed into a major design element for meetings and events. Today, furniture falls into line with styles, textures and colors that play right into the design palette.
So what's vogue for Fall 2012? Rich textures and patterns. It doesn't matter what patterned item you choose, as long as it makes a statement! This season is not about one key color, but rather contrast and combinations.
The fall color palette is rich with purple, tangerine, ultramarine green and espresso; contrast with vivid hues of harvest gold, teal and turquoise. It's time to go bold!
Five Trending Event Styles for Fall: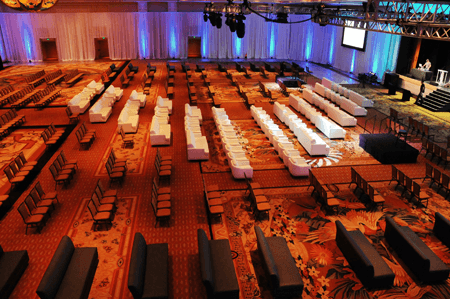 General Session soft seating is out in front this season. Want to get your message across? Make sure your audience is comfortable. Take a look at our Empire line.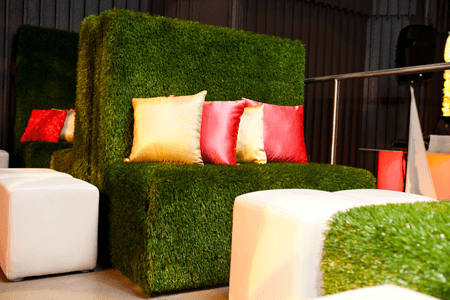 NEW! Just because fall is here doesn't mean you can't bring the grass indoors. Faux grass furnishings are a big hit this year and not showing signs of slowing down.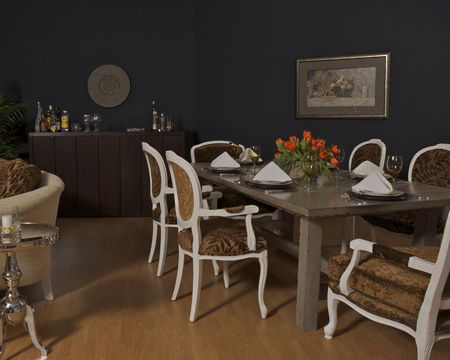 NEW! Rustic earthy looking woods are so chic! It leaves the designer and their customer with a sense of practicality while remaining very stylish. Add in pieces with curved legs and the buzz heats up. Check out our Vermont tables.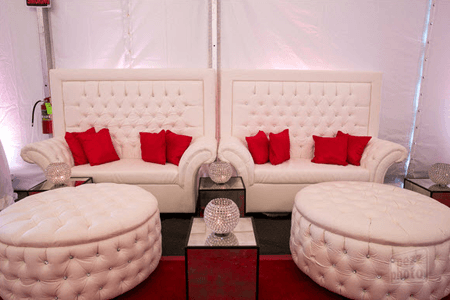 Tufted pieces are in. Think black and white and add in some vivid color splashes for a beautiful look. Try our Crystal Collection.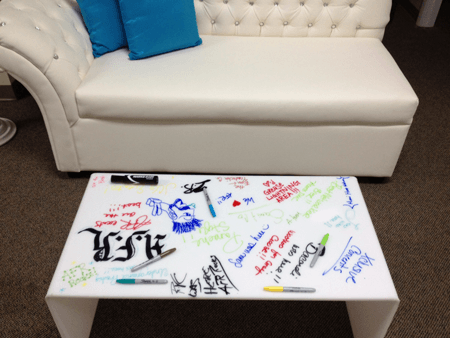 NEW! Go urban! Tag it furnishing options have arrived! Select your piece of furniture and tag it your way at your event. Then take it with you.
If these tips don't inspire an idea, we have more. You can find them at www.afrevents.com or consult with one of our design specialists at 888-AFR-RENT. We're ready to help you create just the right look for your next event.
Pennsauken, NJ (September 4, 2012) – AFR Furniture Rental is pleased to announce the acquisition of Aaron's Office Furniture business, including all active lease agreements. AFR Furniture Rental's national presence becomes stronger with the Aaron's acquisition and AFR is committed to servicing existing leases and maintaining the one-on-one relationship in which Aaron's Office Furniture customers are accustomed. Aaron's customers can rest assured that they will enjoy continued quality of service, expanded inventory offerings and excellent products moving forward with AFR Furniture Rentals.
"From a business standpoint the addition of Aaron's Office Furniture to the AFR family was an easy one. Ron Benedit and his senior staff bring decades of experience in the rent-to-rent industry, and we welcome them to the AFR team. We know that at times change can be daunting, but our promise to former Aaron's customers is an easy transition, quality furniture, and the continued great customer service they are used to," commented Neil Scholnick, CEO, AFR Furniture Rental.
"Here at AFR we could not be more pleased with the acquisition of Aaron's Office Furniture. We view the addition as an expansion of our business as we continue to grow our company into new market segments and expand our presence nationally," commented Jerry Hellmann, President, AFR Furniture Rental.
"As Aaron's, Inc. continues to focus on growing its core business of lease ownership in residential furniture, consumer electronics, home appliances and accessories, we are pleased to reach this agreement with AFR for our office furniture division. With AFR's outstanding reputation in the industry and its strong management team, we are confident our customers will be in good hands and will continue to experience the excellent service they received from Aaron's," said Ken Butler, Aaron's Chief Operating Officer.
With a deep commitment to serving its customers needs in the best way possible, AFR is focused on continually evolving in an exciting marketplace with innovative products and superlative customer service. AFR Furniture Rental is one of the industry's largest furniture rental providers of residential, home staging, and commercial rental furniture and has grown to be a premiere provider of trade show and event furniture rentals. Along with furnishings, AFR offers a full line of houseware rentals, kitchenware including linens as well as electronics and artwork. With locations throughout the United States, AFR is a national, full service provider.
For media inquiries/hi-res images, please contact Tricia Schmitt, at 856.406.1206 or email tschmitt@rentfurniture.com For more information on AFR Furniture Rentals, please visit www.rentfurniture.com.
Being a vendor during the DNC and working on multiple events every day has been a great experience to say the least. With all of our months of organizing, planning, and creating timelines; we thought we were ready for anything, but as each day passed we ran into the unexpected. What I mean is, we had challenges with last minute schedule changes, street closures, security credentials, and logistics.
Speaking of security. It has been ever changing. As the week has gone by, the security has gotten stronger and more stringent. We started out with police on bicycles, then came horseback and motorcycle officers, followed by state troopers, and then came the SWAT trucks, Homeland Security and now today, the Secret Service. It has been very challenging getting around Charlotte to make our deliveries, but with patient determination, we have succeeded each and every time.
At day five we are more than halfway through the DNC Convention and so far so good at overcoming each obstacle that has unfolded. We've quickly learned to take one minute at a time. As we take on each day we can see our events unfold and come to life, and it makes all of the long days, hot weather, torrential downpours, last minute changes and deliveries, well worth it.
Changes can be challenging, but we go above and beyond to accommodate each and every one of them. On Sunday, we had a client for a Delegate Reception request specific colored pillows at the last minute, just hours before the event. We made it happen after two hours of rushed shopping at six different stores, walking eighteen blocks, and clearing through police barricades, security checkpoints, and then running through a parade of protesters, we finally made it back to the venue in time to finish the setup and ultimately satisfy our client. Satisfaction is simply how we define success.
A few other highlights this week for the AFR Team were meeting the Mayor of Charlotte, Anthony Fox, and having a photo with him, seeing the MSNBC Live interviews with former Governor of Pennsylvania, Ed Rendell and former Speaker of the House Nancy Pelosi. The air is charged with excitement, and the experience is cool, no matter how you look at it.
In addition to having fun, we have learned our lessons this week and the biggest one is that no matter how prepared you think you are – when the Secret Service and the high-ranking government officials are involved – all bets are off. Things can and WILL change from moment to moment. But if you roll with the punches you will get through each day as we have – very successfully. We have a strong team that works seamlessly together and I'm happy to say we have managed to spotlight AFR Event Furnishings all over Charlotte as well on the National stage. There are still three days of events left to produce and we are excited that there will be more memorable experiences this week. We are sure that the stories that will go with them will provide memories of a lifetime.
Check back with us at the end of the week with more photos and success stories!
Live from the Democratic National Convention in Charlotte, North Carolina, this is Team AFR!
| | | |
| --- | --- | --- |
| | | |
| Bechtler Museum of Modern Art | | Wadsworth Estates |
| | | |
| | | |
| Rosedale Estates | | Google Experience |
The AFR National Tour started with a kick off in Orlando on July 26th. "Countdown to Chaos" took place at Majestic Event Center, a new event venue in Orlando.  The theme was "the end of the world" and the décor welcomed the guests into a dark and edgy bunker bash with chain-linked fences, poison barrel, air-duct centerpieces that perfectly accented our Titanium covered Function pieces and Grammercy groupings.  Upon arrival guests were greeted by a 12 Foot Tornado display equipped with flying cows, cars and trees – the perfect backdrop for a photo op!  This doomsday event captured the interest of over 550 local industry professionals and 24 sponsors.  The caterers took their displays to a whole new level to accommodate our theme, some including M.R.E's (Meals Ready to Eat) and on-site torched appetizers.  We also had our first annual Designer Challenge where the top designers in Orlando competed to create the best display utilizing assigned AFR pieces.  Raining Roses was our winner!
AMAZING video of our tour kick off in Orlando~ thanks to Voila Cinematic!
Some photos of Orlando's event:

And, as if we aren't crazy enough hosting events in 11 cities in 3 months…. On August 22nd we hosted 2 tour stops simultaneously!!!!
IN BOSTON:
The New England stop on the AFR National networker tour  was held last night at the beautiful Revere Hotel in downtown Boston. Keeping with the" Passport to Design theme" we transformed  the Revere's new venue "Space 57" into 6 different Exotic destinations from around the World . As guests entered through Bora Bora  they got a first time look at our new Grass collection as they walked  through white palm trees reaching over 20 feet high. Next stop was a colorful display of Brazil's Carnival  which featured our new Evoke  outdoor Collection along with our Imperial Purple and bright Tangerine benches. Venice (designed by VDA Productions) was right next door showcasing our Black and White Crystal Button collection paired up with black and white drapery and matching dance floor. Tucked back in  the corner was a lost treasure where you were taken  back to the Marketplaces of Morocco as you relaxed on our extravaganza slip covered chairs. Africa (designed by Future Affairs Productions) was on the horizon as the centerpiece of the room where Elephants, Giraffes, Zebras and Leopards surrounded our Outdoor Broadway collection.  Finally the last stop was back here in the USA as Nantucket Island (designed by Future Affairs Productions)  came to life with an array of beach like settings and guests were able to sample New England Clam Chowder, Homemade Potato Chips, Lobster roll sandwiches ,Mini  Burgers and hot dog sliders. Over 300  Event Professionals were able to enjoy this 3 hour  trip around the world thanks to  the generosity of 15 sponsors  which included 3 of New England's top designers and our hosts AFR Event Furnishings and Rentals-Unlimited! Photo collage below:

IN MIAMI:
Miami hosted this year's event at a new super cool location- The Dezer Collection.  This year we came up with a really fun way to give you an insider's look at the creative process of their competing designers. Michael & Tiffany at The Beacon created short fun video clips of the designers hard at work creating their rooms. You can visit the AFR YOUTUBE CHANNEL to see these videos. Each designer was tasked with creating a room around one of the famous cars in the Dezer Collection. Cars included Mad Max, Scooby Doo, Batman and Grease Lighting.  Be sure to check out the videos!   A unique photo booth was constructed out of AFR LED Light cubes where guests enjoyed a taking photos that were automatically uploaded to instagram with the AFR hashtag #afrnationaltour – the feed was constant throughout the night. Have you ever eaten the same food a U.S. President and Pope John Paul II? Well 450 event professionals from South Florida did last night as the event was catered by Bill Hansen Catering and he only caters for the best! Another photo collage below:

A SPECIAL THANK YOU TO ALL OF THE SPONSORS WHO WORKED SO HARD TO HELP US SHOWCASE OUR FURNITURE IN SUCH A FUN, EXTRAORDINARY WAY! CONGRATULATIONS TO THE ORLANDO, BOSTON AND MIAMI TEAMS FOR HOSTING SUCH SPECTACULAR EVENTS! ALL THREE TOUR STOPS WERE OFF THE CHARTS! WE'LL SEE YOU ON IN ATLANTA ON 9/6!