We recently attended an ISES Day of Education in Chicago and were inspired and excited by what we learned.  As you know, AFR loves not only furniture, but also design, and so when one of the topics was Trends in the Event Industry, our ears naturally perked up. We are happy to see the Mason jars wrapped in twine and the DIY rustic look falling to the way side for a more sophisticated décor and style. We've enjoyed that trend, but we are ready for something a little different. Here are a few of the 2014 trends that grabbed our attention during our session and have us to trying some new combinations and looks for our clients.
1.  Residential Luxury Is In
Residential luxury brings uniqueness to the event stage and infuses the more club-like lounges with a look and feel that mirrors a living room setting. Dark rich refined textures, overstuffed leathers and color all play a significant role in this trend.  Don't just think sofas, chairs and tables, but also add bookshelves, hutches, sideboards, servers, curio cabinets or other interesting pieces.  Next, layer in accents, cubed ottomans, rugs and 'personal' accents like books and frames or artwork, mirrors and other occasional decor that help breathe warmth and character into the setting.  As an idea for a starting point, check out our Broadway, Metro, Grammercy or Chateau Collections to use as a base and build the layers from there. Don't be afraid to mix fabric textures and patterns. Remember there are no rules, only guidelines.  Have some fun with it.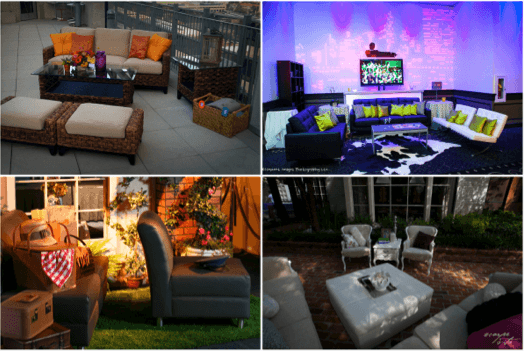 2.  Bring a Piece of Home to the Dining Experience
Spinning off the same philosophy we just told you for the living room, bring the same warm elegance into the guest dining experience to reflect a residential dining room.  Not many people have 60" rounds with floor length linens in their homes.  This year, we will be seeing more and more eclectic dining experiences in events.  To step into the trend, try rectangular or square heavy wooden tables like our Vermont, Hayden or Ashbury, or create communal settings with our wooden Memphis Square or Rectangle pub tables. There are several options to choose from and you don't need linen. When paired with different chairs like our Elio, Chateau, Regale, Marcus or Ghost stools, it creates settings that hold a lot of comfort and warmth. Top the tables with fabric runners; simple floral and low-lying candle treatments. For more ideas, you can view our entire catalogue here.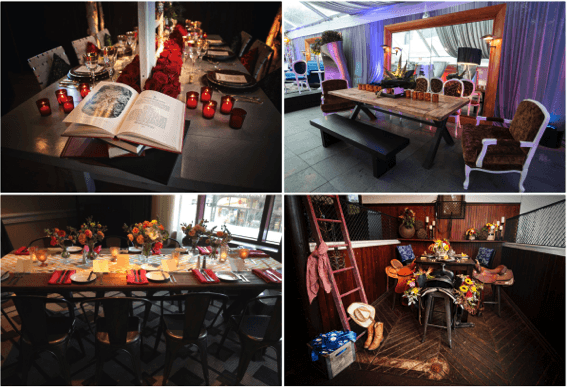 3.  Integrating the lounge and dining environment together.
Skip the standard dining arrangements and throw away the seating chart. Try something different and mix dining and lounge areas together for a more relaxed, no-agenda styled approach to the evening. The overall event isn't just going to be a traditional ballroom build…it's going to be a combination of settings and dining with buffets.  You can still hand out awards or address the room by adding some basic audio/visual elements. People connect and interact better when allowed to mingle and relax.

4.  Demure…is out!  Go bold!
The "all soft toned" look is out…you know beige, blush, gold etc…. No need to diffuse color…it's so passe'.  Vivid is in. Pair soft pastels with intense color and have some fun with it. Along with Radiant Orchid, be sure to check out the rest of the Pantone Spring '14 color palette for some other sassy colors that will bring joy to your design inspiration.

What are your favorite new trends?  Do you need more great ideas?  We're happy to help, just give your AFR Representative a call at 888.AFR.RENT or visit us on the web at www.afrevents.com.
A premier provider of stylish, quality furnishings and accessory rentals, American Furniture Rentals® is pleased to announce the expansion of its AFR Trade Show Furnishings division.
AFR Trade Show Furnishings brings together the considerable resources of AFR and AGILE Trade Show and Event Furnishings, which American Furniture Rentals – the parent company of AFR Event Furnishings® – acquired in 2013. By leveraging the synergies of the two industry leaders, AFR Trade Show Furnishings now offers a larger national presence and expanded service offerings to a broader customer base.
"The decision to acquire AGILE had major strategic implications for our customers," commented Neil Scholnick, CEO, American Furniture Rentals. "With the addition of the AGILE assets and team, AFR now has a greater physical presence in the Midwest, New York and Las Vegas, which has dramatically increased product access and availability nationwide.  As always, our goal is to find ways to better serve our customers, and this acquisition helped us accomplish that."
AFR Trade Show Furnishings is headed by industry veteran Jose Lopez. As Vice President, AFR Trade Show Furnishings, his wealth of experience and proven leadership abilities will accelerate the company's growth plans.
"With a natural synergy across corporate strategy, culture and operations, the pairing of AGILE and AFR Event Furnishings has created a dynamic brand that offers great value to its clients," according to Lopez. "Strategic priorities allowed AFR to realize a return on investment in a much quicker time frame than originally planned. We found the perfect equation with enhanced product lines, nationwide availability and responsive customer service that is the hallmark of both companies."
American Furniture Rentals' business philosophy of partnership, quality and service is the foundation of its longevity and success.  Today, that commitment runs even deeper with 17 full-service showrooms; expanded distribution centers; larger inventory; and a national team to provide unparalleled service from coast to coast.
As one of the country's largest providers of residential, home staging, commercial, trade show and event furnishings, AFR has its finger on the pulse of the dynamic furniture industry. With this newly expanded division in place, AFR looks forward to providing more customers across the United States with distinctive furniture collections, quality products and a promise of service satisfaction.
For media inquiries/hi-res images, please contact Tricia Schmitt at 856.406.1206 or tschmitt@rentfurniture.com.  For more information on AFR Trade Show Furnishings, please visit afrtradeshow.com.
Now you see them, now you don't. They are used for product launches, sample sales, experiential marketing, meetings, events, exhibitions, lounges, offices and more. Proving to be a beneficial solution for both retail and commercial industries, swing spaces provide options for companies as they react to growth opportunities, expand their brand presence and provide face-to-face experiences for their customers.
Temporary spaces can be constructed, operational and generating revenue much quicker than a traditional build out, and these days, reacting in a fast paced marketplace is extremely important.  More and more businesses and organizations are recognizing the advantages that transitory spaces provide.
1.  Affordability.  Since the structures are temporary in nature, and often smaller than conventional spaces, the rental costs are much lower than a traditional build out in prime retail or commercial spaces.
2. Short-term Commitment. Instead of being locked into a long-term rental agreement, swing spaces are normally rented for a fixed period of time creating flexibility for a company to test and experiment in a market, continue operations while waiting for permanent office completion, or adapt its business plans with specific location insights.
3. Visibility. A primary benefit of temp spaces are that they help a generate awareness or create buzz.  They naturally create curiosity — for example, one of our clients, Morpho Trust needed temporary space in selected airports to test the market place and encourage sign-ups for Homeland Security's new Pre-Check Screening program.  We assisted them with temporary offices located immediately as travelers came out of security. They were constructed from 85" panel systems and included a reception area, a private office with locking door, furnishings and décor accents.   People took advantage of the opportunity to take care of the application process on the spot.

4.  Speed of Installation.  Temporary spaces are designed and installed in a fraction of the time it takes to do a traditional build out.  We provided five offices for Morpho Trust in five locations in Newark, JFK, Dulles, Atlanta and LaGuardia each within a rush five-day timeline. While the typical process normally takes about two weeks, temporary options are an unmatched alternative for speed of construction.
5.  Space Expansion.  Often times clients need to handle overflow during a busy time or season.  Last fall, AFR installed three Bursar offices at New Jersey City University.  Using three empty spaces on campus, we constructed transactional stations with desks to allow for the temporary demand during registration that resulted in an easier experience for both administrators and students with more points of service and shorter wait times.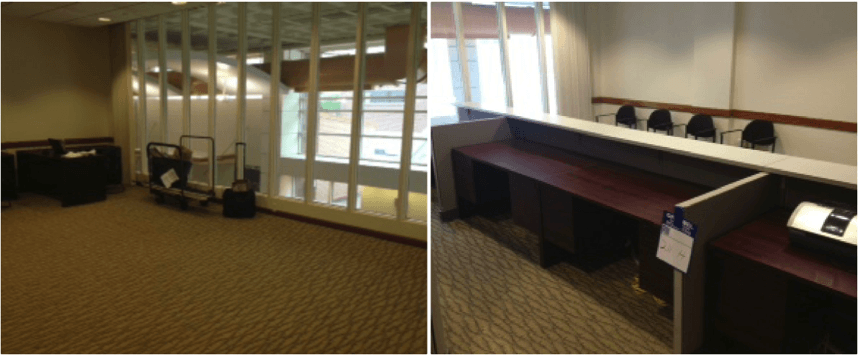 6.  Easy Brand Extensions.  Temporary spaces also provide a way for brands to interact with their customers face-to-face and educate them about new products, services or programs. Short-term spaces can often blend with permanent environments.  Take a look this lounge that was provided for a Jet Blue Business Class lounge at JFK.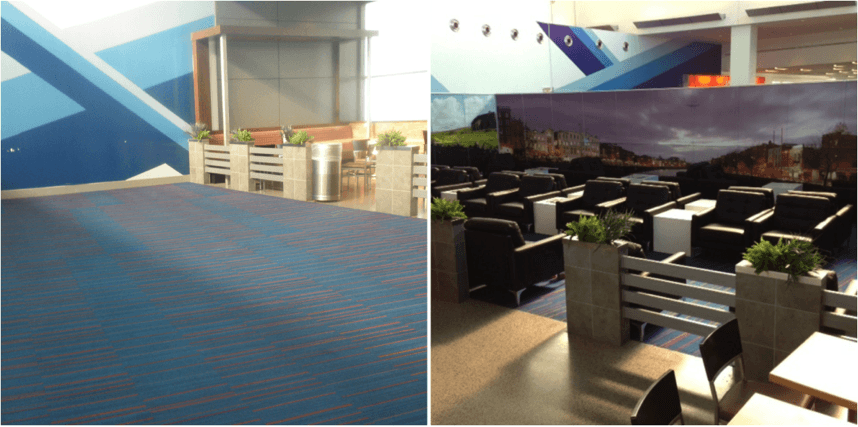 Whatever your specific needs are, one thing is for certain – swing spaces are a worthy consideration for any company that needs to be operational in a short amount of time. With the added benefits of lower out of pocket expenses and configuration flexibility, they provide a solution that is hard to beat.
At AFR, we stock Herman Miller Systems with four different wall heights with options for doors, in addition to a large inventory of furniture collections including desks, chairs, filing cabinets, conference tables and accessories to provide a stylish and functional space so you can get down to business quickly.  To find out how we can assist you with your workspace needs, give your AFR representative a call at 888.AFR.RENT or find us online and download our catalogue at www.rentfurniture.com.
We're already well into the second month of 2014. Time flies when you're having fun! We've been busy helping many of our clients change out their models.  Some of the most common questions we are asked are about are new trends. We thought we'd share a few of the new approaches to design we are seeing this year. Before we begin, one of the most important tips that we can give about re-doing models and community rooms is to not overstate them.  Your model sets the expectation for the rest of the property. When models and apartments don't complement each other, you can actually drive away business rather than successfully closing it. Keeping that in mind, let's take a look at some popular trends for 2014.
Trend 1:  Everyone is simplifying.  Clutter be gone! People are taking a minimalistic and simplistic approach to their lives. Rooms that were often cluttered have been cleared and replaced with a more clean lined and simple look. Doing so doesn't mean taking away the warmth in a room, but rather making a stronger statement within the room.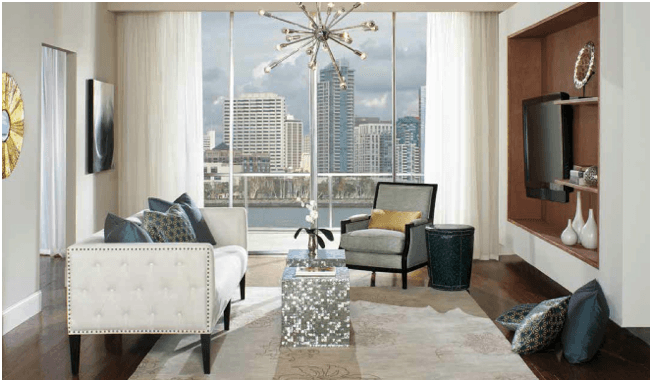 Trend 2:  Defined Pieces Are Being Cross Utilized. Love Grandma's server, but it doesn't fit with the style of the room?  Now you can mix that piece with different settings to create minimalist traditional look. Look around you, there is probably at least one major furnishing in the room now, which you can work this trend with.
Different pieces can be used to identify with the surroundings around it. Take a look at this server.  It would effortlessly blend with several styles.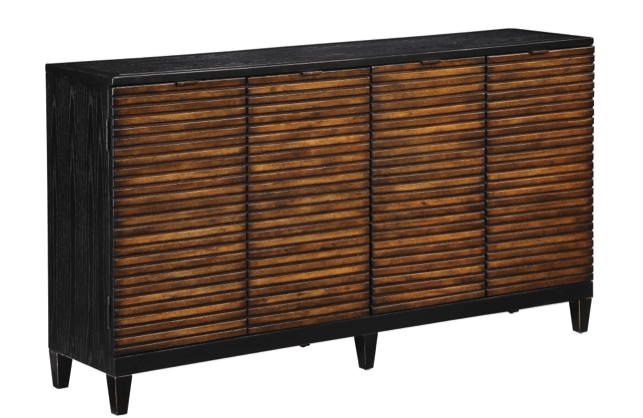 Trend 3:  Common Elements are Share Across Multiple Styles. You can use many different pieces to create a blended look.  Everything flows together and touches one another.  Here a contemporary rug, transitional table, traditional wall color and décor and hardwood floors all blend together for a great looking room.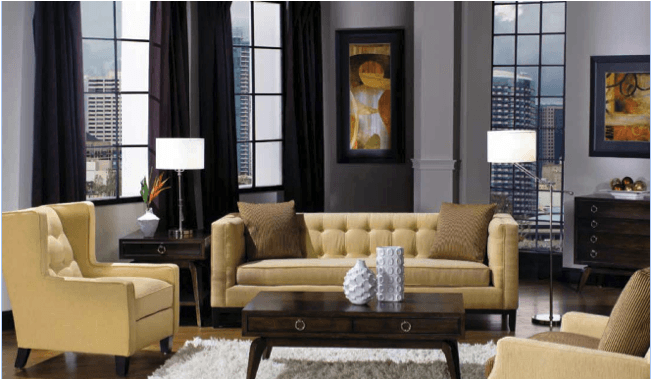 Trend 4:  Mix Environments and Styles. Take everything out of this room. What are you left with? It looks like a great ski lodge or country home, doesn't it?  It feels very traditional.  Try using a contemporary styled bed in a traditional environment, some modern lighting and bedding and it now feels very up-to-date. Mix textures. Note the different textures on the upholstered head and footboard along with the mixed textures of the bedding and pillows. Stay with neutral tones to make this idea really work. You can introduce every trend the world dictates, but the surroundings affect it and they have to rise to the occasion.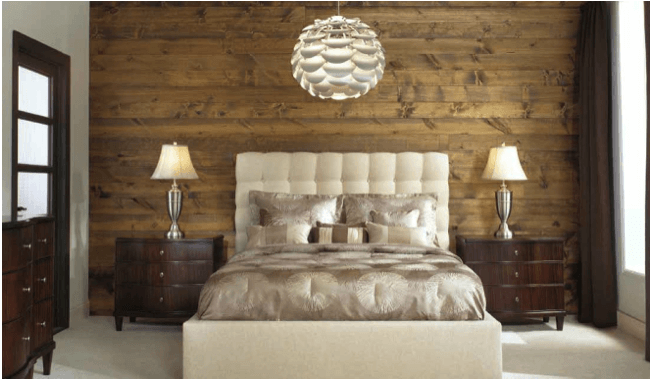 Trend 5:  Create Visual Interest. Let the furnishings in your room create visual interest. Instead of heavy dark furniture, think inviting and polished.  Here, the round glass-topped design, with a warm wood finished base, gives an open feeling.  The tufted nail head Parson chair with the French Laundry design emanates subtle sophistication and creates interest. A color pop of floral adds warmth to complete the setting.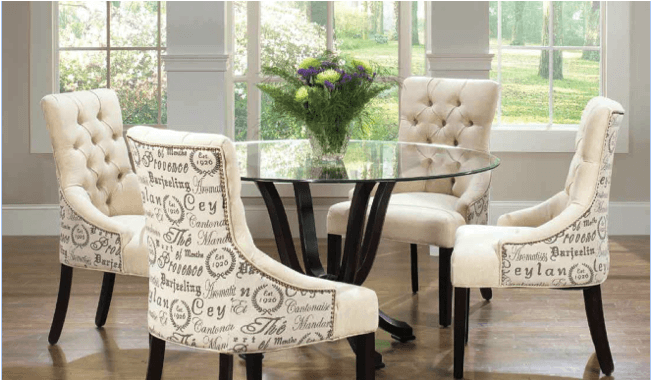 You don't have to stick to the "rules" anymore.  The design world has given us permission to put what we want, wherever we want, within reason.  Don't be afraid to try new things and blend them together to create different looks. Every room doesn't have to match either, create a different feel in different space throughout.
Make your spaces warm, inviting, functional, simple and uncluttered and you have some fun with your individual taste and style.  You may just be surprised at what you come up with.
If you're re-doing your model or community room, or need help staging your home, give your AFR representative a call at 888.AFR.RENT or visit our website at www.rentfurniture.com.  We are happy to help you create a design that works for your space and helps you accomplish your goals whether they be 100% occupancy or selling a home.
ARE YOU READY TO RUMBBBBLLLLEEEEE?
Back for the third year, AFR Event Furnishings presents the ever more popular Design Challenge on the Event Solutions Tradeshow floor. The stakes are high as two notable industry designers face off in this year's Main Event. The 25-minute bout will feature Patrick Peel of Hello! Las Vegas and Eddie Diaz of Encore Creations. With such strong designers in the ring, the Design Challenge promises to be an exciting event. The only question that remains is whether it will be a TKO or a Split Decision.  Let the "rivalry" begin!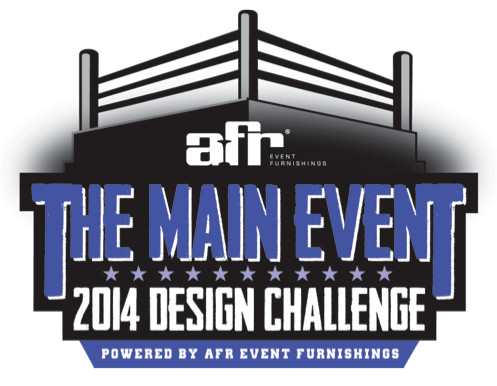 In the First Corner!
Described as a creative visionary, Patrick is an award-winning designer whose work has been awarded for a 2013 ISES Esprit Award for "Best Entertainment $25-$75K", Hello Destination Management's 2012 and 2013 "Program of the Year" and the World Market Design Center and the El Cortez Hotel and Casino for "Best Hotel Suite Design."
His professional background is broad and includes extensive experience with theming, décor, lighting, props, and entertainment. Patrick enjoys working on projects of all sizes, but he specializes in creating large-scale events. He is inspired by the motto: "Love what you do, put your heart into it and you will be rewarded."  Patrick is currently serving on the Las Vegas ISES Board as VP of Programs.
In The Other Corner!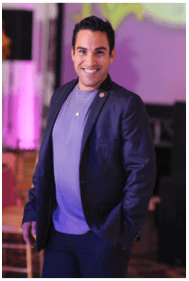 Eddie Diaz, CSEP is the creative alchemist, driving force and owner of Encore Creations, a special event company that specializes in the creation, design and production of business, social and destination events. An award-winning producer, designer and director, Eddie began his entrepreneurial journey as a child producing and directing his own backyard musical reviews and selling lemons at a stand.
Eddie has 20 years of experience in the entertainment and event industry. His creativity and energy has been recognized by industry organizations including Florida Biz Bash, Event-Solutions Magazine, Orlando Style Magazine and Catersource.
The Main Event Details:
The starting bell rings Tuesday, March 25th 2014 at 1:30pm. The designers will be presented with a variety of furnishings including the new 2014 Showcase Collections from AFR Event Furnishings along with a variety of décor items provided by sponsors from the tradeshow floor.  Both designers will attempt to score a "TKO Design" in one 25-minute bout.
After the match, spectators and tradeshow visitors will have the chance to vote for their favorite design and chat with the designers. The ballots will be tallied at 2:30pm on Wednesday and the Main Event Designer will be announced at 5:30PM during the Conference Closing Session with Peter Callahan.
Stay tuned for more exciting information and details by liking AFR Event Furnishings on Facebook or Twitter and using #afrevents.
Bored with the nightlife in your city? Tired of the same old clubs week after week? A growing trend across the nation for the past couple of years, the Pop Up Night Club has gone worldwide even showing up in far-flung places like Nairobi, Kenya. These fly-by-nightclubs provide an experience above and beyond what you can find out on any main strip in any given major city.  Pop-up nightclubs are heard of, but rarely seen or experienced.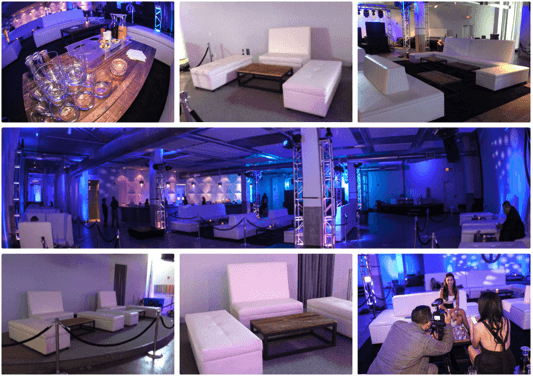 Pop up clubs show up in unexpected places and spaces – from an empty warehouse or art gallery to loft spaces or empty grocery stores. The important thing is that it is a raw space that event promoters can transform. The experience is exclusive and offers an amazing entertainment and an unmatched nightlife experience.
To get an invite, it's not what you know but whom you know. Someone that is already a member must refer a new invitee.  It is standard operating procedure and it is intended to keep the club and social experience underground and exclusive.
We've done a couple of pop up nightclubs, and we wanted to know more about them. Luckily, we knew just the people to speak with. Atlanta Guestlist gave us a peek inside one of their events. Check This Out!  You'll even see some of our furnishings including our Sophistication Collection, Civic Tables and Essentials Day Bed, which we provided to help create the amazing Vegas-like club.
Here's how the evening unfolded for 400 guests at Atlanta Guestlist's "Witness 2013."  Before taking guests to an undisclosed location on a crisp October night, guests enjoyed a cocktail reception at the W Atlanta – Buckhead and then boarded limo buses that took them to an undisclosed location – The Westside Cultural Arts Center in Midtown. To create the nightclub, GuestList brought in audio and video, décor and staff to transform the arts studio into a posh nightclub for guests. With DJ Danny Diggz spinning, drinks flowing, and the bodies moving, the unforgettable night of socializing ended with a pizza delivery surprise from Bomb Squad Pizza.
The events are exciting and sexy and people love being part of the social underground.  To be sure, the events are high end and professionally executed.  "We're focused on making sure when someone walks through our doors they have the best entertainment experience as possible," said, Andre Smith, President and Co-Founder, Guestlist Atlanta.
At AFR, we are a little in love with the whole idea of the pop up nightclub. Just like the clubs themselves they present us with a non-traditional opportunity to be creative with our furnishings. We can't wait to for our next pop-up club experience. We hope that an unexpected invitation drops into our inbox very soon.
Are you looking for furnishings for a pop up club, retail or commercial space?  We can help. Please contact your AFR Representative at 888.AFR.RENT or visit our website to see our full collection of furnishings at www.afreventfurnishings.com
Bars are often thought of for their functional use at events, but with an influx of flexible savvy designer styled choices, bars can be so much more than bars.
Historically bars have been designed to serve in a functional capacity for serving beverages.  Fast-forward to today you can find bars that are as artistically designed, as they are functional.  With a plethora of choices from woods to metallic and plexi, they are an easy element to utilize in several ways.
Let's take a look at a few different ideas:
Need a new take on registration?  Need to brand your event?  Customize bars with your logo or graphic and create a marketing or collateral station to display flyers, programs or giveaways and gift bags.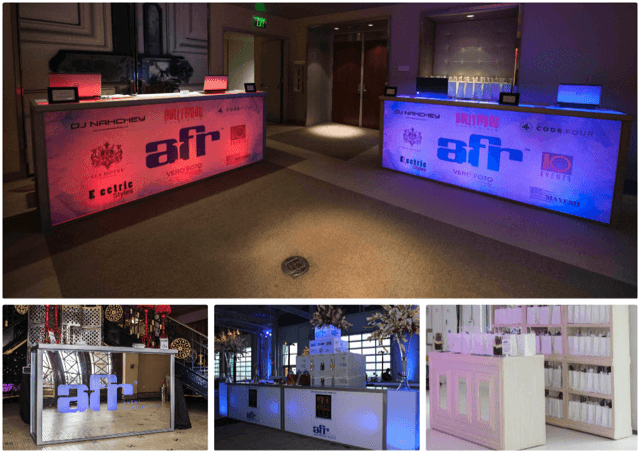 Need a unique buffet?  Try using our Umber Bars or Espresso Shanti Bar Backs to create a unique double sided self serve station for simple hors d' oeuvres or as accent piece filled with floral and décor.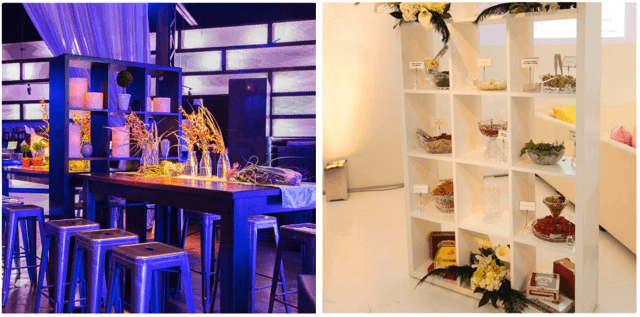 Need a bar or buffet station that will fit perfectly with the elegant setting of a room?  Try our Crystal Collection Bar Surrounds in White or Black to add a bit of sparkle.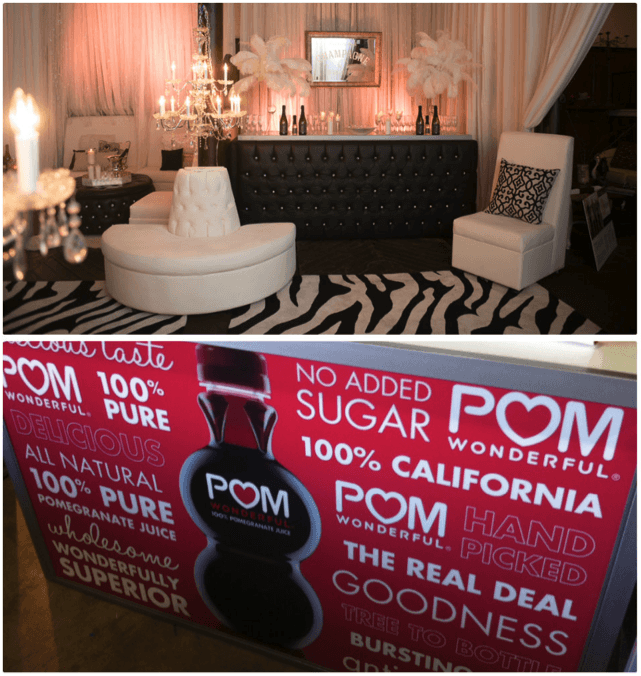 Have you thought about using bars for product demonstrations?  Take a look at how great they work as a branded informational element.
The possibilities become endless when you paint outside the lines. Be imaginative and mix it up at your next event. One of the hidden secrets that many times people don't think about with furnishings is its adaptability.  With a little creativity, you can turn a functional element into a splashier design element that adds to the guest experience.  Have some fun with it!
For more ideas on how you can use furnishings in different ways, please call your AFR representative at 888.AFR.RENT or check out our complete catalogue at www.afrevents.com.
Have you ever walked into a huge ballroom for a General Session and faced a sea of chairs precisely placed and lined up like soldiers?  It can be a little intimidating and may set a constrictive tone for the meeting.
Why not loosen it up a bit and have some fun with seating?  2014 Meeting Trends suggest that interaction, engagement and results are the most important factors that planners are looking for in their evaluations of success.
Here are 5 ideas that will make a serious splash:
Maximum View of the Stage: use seating that is comfortable and placed for maximum view of the stage, so guests can see and absorb everything that is happening on it.  It is one of the easiest ways to increase productivity in meetings.
Make It Easy To Engage: Bring people closer together and maximize seating  while allowing for more interaction between guests and presenters.
Think Comfort: More and more planners are turning to alternative styles of seating.
For a Chik-fil-A session, we used our Chamois and Buckskin stage chairs to create a configuration for VIP seating, which allowed for comfort and kept all eyes on the stage.
Brand it!!!  Adding in branded pillows and accent tables can help a conference take on a fresh and trendy direction.
Mix and Match:  Mix and match different collections to create an innovative layout for your meeting.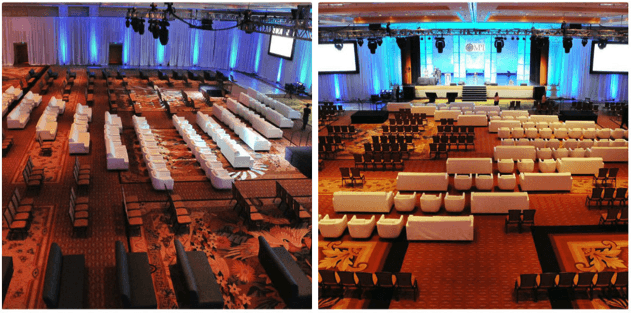 In this configuration for MPISEC, we used their Meeting Forward arrow logo and implemented white lounge sofas and chairs directly in the middle of the ballroom and recreated the meeting logo in an innovative way.
The way you design your meetings, directly impacts how you inspire and engage guests.  AFR Event Furnishings is ready to help you put together a perfect environment to help make your next meeting or conference as successful as it can possibly be.
Visit our website at www.afrevents.com to see our exciting new arrivals for 2014, or call your representative at 888-AFR-RENT to find out availability and pricing in your area.
When the weather is warm and the sun is out, people love to hold their events outdoors. There's something different about being outside under the stars.  Even so, sometimes weather can take a turn for the worst, especially if you live in the Midwest where you can have all four seasons in a single day or in a monsoonal climate. But, there are ways to make the weather work for you while still keeping the luster of your event, be it a wedding, birthday party, or corporate gathering.
Because outdoor events can go from delight to disaster quickly, it's always a good idea to have a rain back up. For example, using a clear tent instead of standard white can help you and your guests get that outdoor feel without getting drenched. Tents don't have to lock you in, but they do provide a great back up plan when weather gets extreme. There are limitations to when it is safe to be outdoors, so always check weight load and wind ratings on any structure you put up. Additionally, there are creative ways to ease the pain of bad weather. Provide umbrellas at valet and hand towels once inside for guests to dry off. You can even customize them with your logo or initials.
If you know for a fact that it is going to be sunny on the day of your event, consider stylish outdoor furniture and décor. Outdoors seating doesn't have to be cheesy and uncomfortable, so don't get caught up with visions of lawn chairs. Check out our Broadway, Evoke or Grass Collections for some stylish ideas. These days there are some great options for luxury, comfort and style.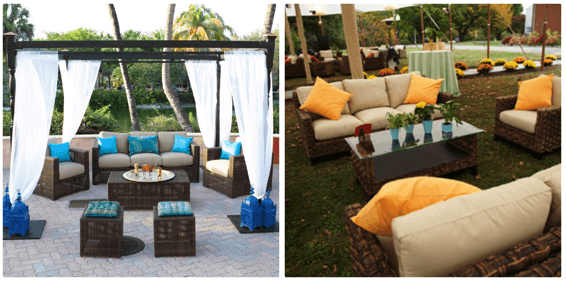 Over the years, beach weddings and parties have taken precedence in popularity… but, times are changing and now people are looking toward garden, farm, and plantation style themes. For example, "Farm Chic" is a big trend right now, which blends farm style with modern décor for a rustic look.
Paper lanterns are a great way to give a little pizazz to an outdoor event. They come in a variety of colors and designs and add a chicness that you really can't get with other types of lighting, and, they're cost efficient! You can also string lights around the premises to create a magical feel for your guests. If it is a daytime event, string paper lanterns in a variety of colors for a festive look. There are endless ideas. Consider some of these:
A lot of people like to showcase photographs, especially at weddings. Consider an LED screen if your event is during the day as "blow up" screens can be difficult to see.
Photo ops aren't just for indoors. Find a beautiful backdrop and set your photo opportunity there. Photographers are very creative people and love helping design something that is customized especially for your event or wedding.
Food service can be equally fun by utilizing food trucks instead of traditional buffets.  Don't let the words "food truck" stop you.  Many offer gourmet, high quality foods and custom menus that will leave your guests raving.
For activities think about bocce ball, croquet, corn hole, king size chess, or even set up nets and have fun with a volleyball game or badminton. It all depends on the type of event you are holding, but being outdoors opens the opportunity for many activities for guests to have fun in ways that suit the event.
If you would like to discuss furniture and décor ideas for your next outdoor event, get in touch with your AFR Representative at 888.AFR. RENT. We are ready to help you find some creative and fun ways to style your next outdoor event.
The 24-hour news coverage of Superstorm Sandy making landfall in New York and New Jersey in October 2012 may be gone and forgotten, but the resulting devastation is still very much a reality for many. The impact was monumental with over 100,000 residences damaged or destroyed, and up to 2,000,000 people left without power and heat during harsh weather conditions. More than a hundred lives were lost. Many of those families impacted by Sandy are still unable to return to their homes over a year later.

In November, we went to Rockaway Peninsula to find out how we could help. What we saw there was devastating and we knew we needed to get involved. The question was how to effectively make a difference in the quickest way possible.  The answer came with a familiar face.  As many of you know, AFR has been involved for several years with the St. Bernard Project in New Orleans helping to rebuild and furnish homes for families of Hurricane Katrina. Since Sandy, SBP has expanded their efforts to the East Coast and we are excited to announce that we will again partner with them and their local facing organization, Friends of Rockaway to help our neighbors right here at home.
We've decided to attack the undertaking on more than one front. To start our efforts, we are donating $20,000 to the St. Bernard Project to help rebuild one family home and then fully furnish it.
Additionally, for every month of 2014, we are going to give a $1,000 gift certificate for our Clearance Center to use toward sofas, tables, bedroom furniture and more and then deliver it to them.  On top of that, some of our long time vendor partners have graciously joined with our effort.  Sealy Mattress of New Jersey has donated twelve-queen size mattress and box springs and Zuo Modern has donated twelve dinette sets.
We will also offer a discount on furnishings to all St. Bernard Project clients.
Lastly, in the spring, we will be sending a team down to add boots on the ground to help with labor and rebuilding project.  We'd love to have you join us, as there is so much work to do.
From our past experiences with SBP in New Orleans, we know that our efforts do really make a difference.  We also know that being a part of the project changed our lives as well. We believe in partnership at AFR and our involvement with St. Bernard Project Rockaway is a part of our commitment to being a good partner not only in business but also in our communities.
We urge you to partner with us in our efforts.  To make a donation you can go here. To get involved with our HandsUP Team, please contact tschmitt@rentfurniture.com for more information.

It's time to get involved and lend a hand up to make a difference.  Follow our journey and join in the conversation on social media with hashtag #AFRhandsUP.